H-E-B Primo Picks Quest for Texas Best Announces Winners
Top Texas H-E- Makers Win $70,000 in Cash Prizes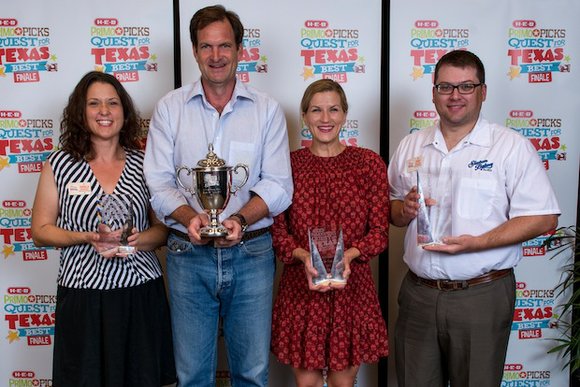 (HOUSTON, TX) – Creators of unique products from the Lone Star State are relishing the sweet taste of success as winners of H-E-B's Primo Picks Quest for Texas Best contest. A panel of expert judges narrowed a field of 25 finalists to four winners on August 12 and 13 at the Houston Food Bank. The winners received cash prizes totaling $70,000 and consideration for coveted space on H-E-B shelves in 2016.
"The final presentations were a wonderful display of ingenuity and vision," said James Harris, Director, Diversity & Inclusion and Supplier Diversity, H-E-B. "Our state is prime territory for smart, inventive food entrepreneurs further solidifying Texas' national reputation as a foodie state."
THE 2015 H-E-B PRIMO PICKS: QUEST FOR TEXAS BEST AWARD WINNERS ARE:
Grand Prize ($25,000 and featured placement as a Texas Best Primo Pick): TEO Gelato's Gelato (Austin, TX)
Texas-born, Italian-trained Matthew Lee has mastered the craft of gelato using local, market-fresh ingredients and a homemade base. TEO Gelato's signature flavors include Texas Pecan and Whiskey, Peanut Butter and Nutella, Poteet Strawberry and Texas Hill Country Peach.
First Place ($20,000): Slaton Bakery's Homemade Vanilla Wafers (Slaton, TX)
Chad Wilson's Slaton Bakery has been delivering sweet treats to West Texans for over 90 years! The bakery's most popular and famous delights are the Homemade Vanilla Wafers – best served with banana pudding.
Second Place ($15,000): Blackbird Foods (Houston, TX)
Inspired by local ingredients and the diverse food cultures of Texas, Angela Rowley's Blackbird Foods' pies are diverse and feature small, fried Cajun Pies, meal-size pies and hand pies.
Third Place ($10,000): Blackbird Bakery (Austin, TX)
After mastering the craft of gluten-free baking, Karen Morgan decided to share with her fellow Texans. Her flour line currently consists of six blends from Donut & Fritter to Bread & Pizza to Cookie Jar.
The judges included Scott McClelland, President, H-E-B Houston; Winell Herron, H-E-B Group Vice-President of Public Affairs, Diversity and Environmental Affairs; Scott Pettit, H-E-B Director of Selling; Bruce Robinson, H-E-B Director of Bakery, Deli and Food Service Merchandising; and Chef Michael Skibitcky, Dean of the H-E-B Culinary Academy and a tenured professor at the Culinary Institute of America. Criteria included product quality, marketability and readiness for production as well as the makers' suitability as retail suppliers.
"Quest for Texas Best is a phenomenal opportunity for Texans to get their products on the shelves and for all to enjoy locally sourced products," added Harris.
The Quest for Texas Best competition drew entries from 74 towns across the state. Through two qualifying rounds, H-E-B Business Development Managers chose the 25 finalists for their taste and flavor, customer appeal, value, uniqueness, market potential and differentiation from current products at most H-E-B stores.
Among the finalists were six product makers from the Houston area; five from the San Antonio and West Texas areas; seven from the Dallas area; four from Austin and three from the Rio Grande Valley.
The Quest for Texas Best is a signature program of H-E-B Primo Picks. H-E-B Primo Picks invites customers to enjoy products that are unique, delicious and possibly new to their palates. Selections represent the best of what is in stores, such as H-E-B MooTopia®, H-E-B Queso Poblano Chicken Sausage and H-E-B That Green Sauce.
For more information, visit www.heb.com