Dutch Master Joachim Wtewael (1566–1638) Subject of Major Monographic Exhibition at the Museum of Fine Arts, Houston, Beginning in November
Thirty-five paintings and a selection of drawings shed light on Wtewael's artistic excellence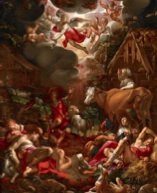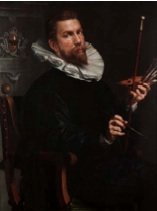 HOUSTON—August 17, 2015—In November, the Museum of Fine Arts, Houston, opens Pleasure and Piety: The Art of Joachim Wtewael (1566–1638), the first-ever monographic exhibition devoted to the late-Renaissance Utrecht artist. The exhibition includes 35 of Joaquim Wtewael's finest paintings on canvas, copper, and panel, along with a selection of drawings. Ranging from portraits and moralizing biblical scenes to florid mythological compositions, these works underscore Wtewael's reputation as a remarkable storyteller and a great master of the Dutch Golden Age. Pleasure and Piety is on view in Houston from November 1, 2015, to January 31, 2016, following presentations at the Centraal Museum Utrecht, the Netherlands; and the National Gallery of Art, Washington, DC.
"Wtewael's jewel-like, intricate, and vividly colored paintings have long been a favorite of museum curators," said Gary Tinterow, director of the Museum of Fine Arts, Houston. "This exhibition allows us to introduce his fascinating, almost hallucinatory vision to a wide audience."
"Pleasure and Piety presents a selection of the artist's finest works, selected from just over 100 known paintings and drawings held in private and public collections throughout the United States and Europe," said James Clifton, the Museum's curator of Renaissance and Baroque painting and director of the Sarah Campbell Blaffer Foundation. "These examples prove that Wtewael was an expert draftsman and a brilliant colorist who could work in large and small scale with equal ease. His paintings on copper, so full of minute details, are breathtakingly exquisite."
About the Artist
Born and raised in Utrecht, one of the oldest cities in the Netherlands, Wtewael (pronounced OO-te-vall) spent four years in Italy and France early in his career. During those study years he embraced international Mannerism, a popular painting style characterized by extreme refinement, artifice, and elegant distortion. He remained one of the leading proponents of Mannerism throughout his career, even when most other early 17th-century Dutch artists shifted to a more naturalistic mode of painting.
Wtewael was adept at painting a wide range of subjects, and "pleasure" and "piety" are recurring motifs in many of his works. The exhibition includes compelling portraits of his family members and close associates, intimate and carefully rendered works that demonstrate an exceptional ability to capture the likeness and character of a sitter. His oeuvre also features a wealth of mythological and religious scenes. Some, like The Annunciation to the Shepherds (1606), in the Blaffer Foundation collection, illustrate biblical passages on monumental canvases. Others, such as a witty depiction of Mars and Venus Surprised by Vulcan (1601), were rendered on small coppers and kept private, brought out only for those who would appreciate the erotic subject. Wtewael also made large narrative paintings that focus on a single figure, including the sensual Perseus and Andromeda (1611) and the evocative The Kitchen Maid (c. 1620–25).
The exhibition reveals Wtewael's brilliant combination of two modes of painting within Dutch theory and practice: working from the imagination and from nature. Many of his
works are marked by unnatural colors, dense and sophisticated compositions, and highly mannered figures and poses, although always with touches of carefully observed details.