North Central Alumni Raise More Than $100,000 for Tuskegee University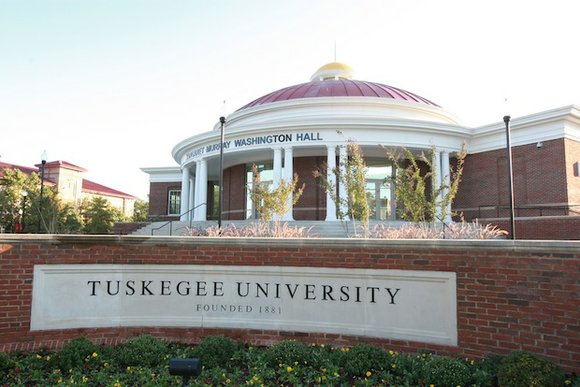 TUSKEGEE, Ala. (August 17, 2015) —The North Central Region of the Tuskegee National Alumni Association showed their commitment to the university's future this weekend and are now leading the pack for alum donations. During their biennial meeting in Lisle, Ill., $109,392 in donations was presented to the university. The gift will be used for key university initiatives, including student engagement and the General Fund. In July, the South Eastern Region presented 100,255 to the university. North Central gave $9,137 more to be the current donation leader .
Held at the Hilton Hotel Aug. 14-16, the North Central Region meeting was an opportunity to discuss alumni and university affairs and featured several business sessions and presentations from university representatives. Among the highlights was an inspirational speech at the Eminent Associates luncheon from one of founding president Booker T. Washington's great grandsons, Marshall Washington Cabiness Abuwi. Also, Tuskegee University president, Dr. Brian L. Johnson spoke to the alumni Saturday at their Crimson and Gold Banquet about the importance of giving unrestricted gifts to the General Fund and raising the percentage of alumni giving.
The first organized off-campus Tuskegee University alumni club was established in 1905 in Montgomery, Ala. Today, the North Central Region consists of clubs from Illinois, Indiana, Kentucky, Michigan, Missouri and Ohio.
About Tuskegee University
Founded in 1881 by Booker T. Washington, Tuskegee University is home to approximately 3,000 students from the U.S. and 30 foreign countries. The academic programs are organized into seven colleges and schools: 1.) Andrew F. Brimmer College of Business and Information Science, 2.) College of Agriculture, Environment and Nutrition Sciences, 3.) College of Arts and Sciences, 4.) College of Engineering, 5.) College of Veterinary Medicine, Nursing and Allied Health, 6.) Robert R. Taylor School of Architecture and Construction Science, and 7.) School of Education.
Tuskegee University is accredited with the Southern Association of Colleges and Schools Commission on Colleges to award baccalaureate, master's, doctorate, and professional degrees. The following programs are accredited by national agencies: architecture, business, education, engineering, clinical laboratory sciences, nursing, occupational therapy, social work, and veterinary medicine.
To learn more about Tuskegee University, go to: www.tuskegee.edu.