Points of Light Conference Elevates Corporations' Connections to Communities
Business Track to shape the future of volunteer service in the global marketplace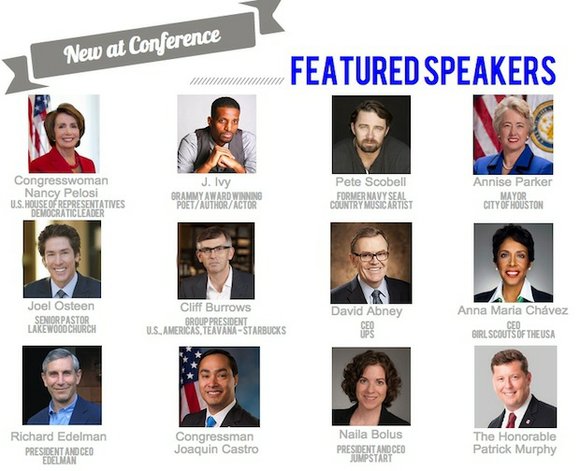 Houston, TX (August 18, 2015) – The 2015 Points of Light Conference on Volunteering and Service, providing the singular opportunity for thousands to come together to shape the future of volunteerism, will be held October 19-21 in Houston, Texas at the George R. Brown Convention Center. The Conference offers a unique Business Track that will share the latest innovations and inspirations for engaging employees in volunteering.
"There is an important role for corporations in addressing community needs: US consumer appetite for corporate support of social issues remains strong," says Tracy Hoover, CEO, Points of Light. "This year's Business Track will embrace the future of employee volunteerism including the move toward purpose-driven business models and new frontiers in pro bono. We'll be celebrating the 10th Anniversary of the Corporate Service Council by exploring how we can build on our rich history of corporate service to be transformative future leaders in our companies and communities."
Special Events
On Sunday, October 18 (1-5 p.m.), as a kick-off to the Conference, Points of Light and A Billion + Change are bringing together Houston Project Management professionals to leverage their professional skills and participate in Ready for Reading, a Project Management Day of Service. During this half-day, pre-Conference event, Project Managers will use their business skills and work with 50 Houston area nonprofits to identify and scope a project or challenge in a unique issue-based scopeathon with the generous support of Hewlett-Packard and Volunteer Houston
Highlights of the Business Track include a CEO Roundtable that will bring Corporate Service Council CEOs to the spotlight to reflect on the changing role of companies as champions for social purpose. There is also a Women's Leadership Forum that will explore the career path and networks to help women succeed in the fast growing corporate responsibility sector. The luncheon speakers for the business track will explore "Purpose in Practice," sharing their unique perspectives as leaders of social-mission companies. Additionally, a special STEM breakfast will elevate the importance of science, technology, engineering, and mathematics as an important part of education in a competitive global marketplace and to our nation's future economic prosperity. This breakfast is in celebration of 10 years of the Corporate Service Council, which consists of 90 companies helping to advance corporate volunteering.
These are must-see events for leaders from all disciplines, from Human Resources to CSR to marketing and communications, and from all business backgrounds. It's the largest opportunity to engage in robust conversations, challenge the accepted principles of employee programs, and discuss smart strategies to sustain engagement, innovation and excellence.
Workshops
The Business Track will feature workshops led by executives and change-makers who build purpose into business and corporate responsibility. The business track is comprised of 10 workshops that offer networking and service learning. Whether you are building a domestic program or going global, it is an unparalleled chance to learn from the best in the industry.
This year's topics include:
• Strengthening Community Networks for Efficiency and Impact
• Three Skills Every CSR Professional Will Need in the Next Five Years