Jimmy Carter to discuss cancer diagnoses Thursday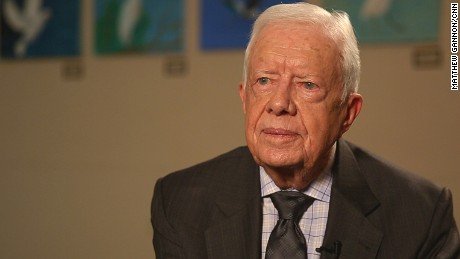 WASHINGTON (CNN) -- Former President Jimmy Carter has scheduled a Thursday morning news conference to discuss his cancer diagnosis.
The 90-year-old Democrat plans to discuss his health in detail at 10 a.m. ET at The Carter Center in Atlanta. Scheduled to last 45 minutes, it'll be Carter's first in-depth comments on his health since announcing last week that cancer is spreading through his body.
Carter had a "small mass" removed from his liver in an early-August surgical procedure.
Carter, elected in 1976 and ousted in the 1980 election by Ronald Reagan, has a family history of pancreatic cancer -- a disease that claimed his father, brother and two sisters. His mother had breast cancer, which later spread to her pancreas.
It's not clear where the cancer originated or how far it has spread -- two issues that Carter is likely to be asked about Thursday morning.
For more information go to http://www.cnn.com