Skinn Cosmetics' Foot Fetish Heel Balm Gives Back to Breast Cancer Awareness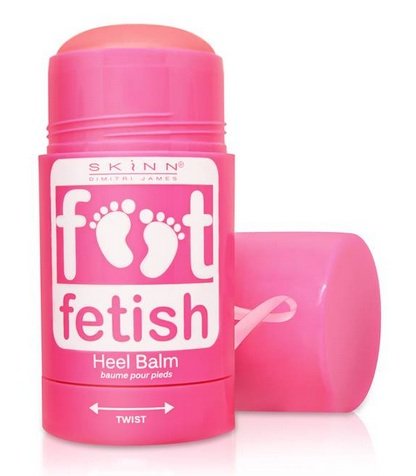 ​Start October off on the right, silky smooth foot with Skinn Cosmetics' Foot Fetish Heel Balm. In honor of Breast Cancer Awareness Month, Skinn Cosmetics will donate 100% of sales (not profits, every cent of every sale will be donated!) of their Foot Fetish Heel Balm to support Bright Pink, the only national non-profit focused on the prevention and early detection of breast and ovarian cancer in young women. Bright Pink has quickly become one of the country's fastest growing non-profit organizations, impacting and saving thousands of lives each day.
Help stomp out breast cancer with flaunt-worthy feet using Foot Fetish Heel Balm in Grapefruit! The sweet-smelling application glides on like butter yet absorbs quickly to smooth, hydrate and exfoliate rough or cracked feet. Vitamin A, C and E, Shea Butter, Grapefruit, Meadowfoam Seed and Jojoba Oils work together to reveal your most silky, petal-soft skin yet! Apply generously on feet before bed, and let the healing power take effect overnight.Skinn's Foot Fetish Heel Balm benefitting Bright Pink retails for $22.00 for 2oz and is available for purchase at www.skinn.com.
About Skinn Cosmetics
Skinn Cosmetics is a line of premium skincare and color cosmetic formulas developed by professional make-up artist Dimitri James. Skinn formulates and manufactures all of its own products, using highly active, concentrated natural ingredients and avoiding excess water, fillers or packaging. From concept to compact, from brainstorm to bottle, every product worthy of the Skinn name comes to life under one roof, and under James' watchful eye. Skinn Cosmetics can be purchased at www.skinn.com and on EVINE Live.
About Bright Pink
Bright Pink is the only national non-profit focused on the prevention and early detection of breast and ovarian cancer in young women. The organization is on a mission to save women's lives from these diseases by empowering them to live proactively at a young age. Bright Pink's innovative educational and support programs educate and equip young women to develop personalized strategies to reduce their risk for these diseases or detect them at early, non life-threatening stages. Learn more and brighten up on breast and ovarian health at BrightPink.org