Eazy-E Covers VIBE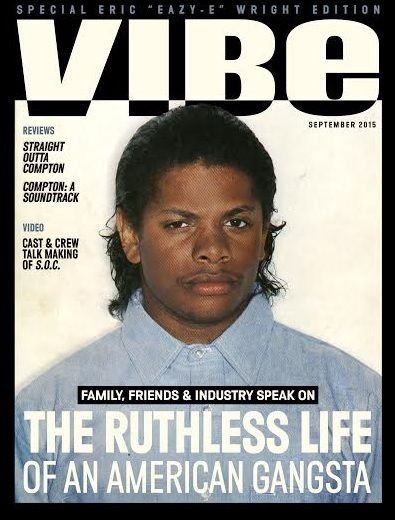 Because of the opening of "Straight Outta Compton," the former members of N.W.A have been drawing more attention than usual, some good and some bad. After Ice Cube and Dr. Dre covered Rolling Stone's most recent issue, hip hop mag VIBE has given its latest cover to the late Eazy-E, who appears over the title "The Ruthless Life Of An American Gangster."
Journalist Keith Murphy interviewed E's friends and family for the article, which you can read excerpts of below, and the full thing here.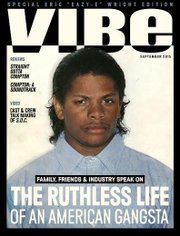 Lil Eazy-E on his father's legacy:
"There has been a blatant level of disrespect for my father in the music business," says Eazy's sonin a serious tone. "It's a long time coming, but people are finally acknowledging who he was and what he did for this game."
Ice Cube on the film:
"I didn't think a studio would have the courage to make [Straight Outta Compton]… not the way I wanted it made," admits an in-a-daze Cube to VIBE. He is holding court at the Beverly Hills' regal Four Seasons Hotel during a manic press day. A primary producer on Straight Outta Compton alongside Dre, Eazy's widow Tomica Woods-Wright and the film's veteran director F. Gary Gray, the Tinsel Town powerhouse is still getting used to the reality that the hell-raising story of N.W.A. has been given the Hollywood red carpet. "At any moment I was ready to bounce because it was like, 'Yo, if we can't do this right we shouldn't do it at all.'"
Will.i.am on Eazy:
"He never seemed like he was playing a role," recounts Black Eyed Peas leader Will.i.am, who was discovered and signed to Ruthless Records by Eazy in 1992. "When you listened to N.W.A. you forget that Cube went to college and that Dre was in an electro funk band called World Class Wreckin' Cru. That's how real Eazy was. He was the one in the group that really was driving the '64 and hustling drugs in the streets to survive."
For more information go to http://www.hotnewhiphop.com