Entertainment Industry Giants Bring Hollywood to Houston with Entertainment MPAC an "Empowerment Tour," Oct. 2-3
Event demystifies the entertainment industry and teaches strategies for making it in show business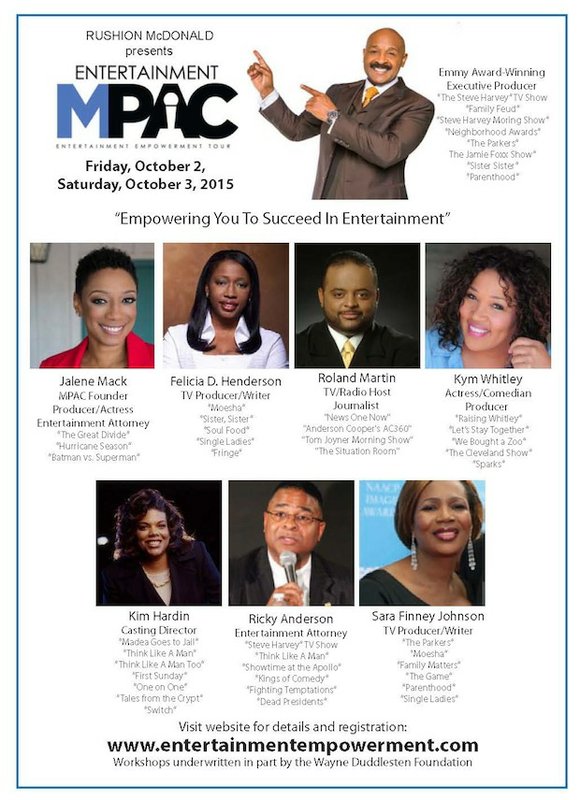 HOUSTON, TX – Aug 19, 2015 – Well-known entertainment industry personalities bring their experience and expertise to Houston to launch Entertainment MPAC an Empowerment Tour, held Oct. 2 – 3, 2015, at University of Houston Central Campus Student Life Center, located at 4800 Calhoun Rd. Emmy Award-Winning Executive Producer Rushion McDonald of the TV Show, "Steve Harvey", Entertainment Attorney Ricky Anderson and Houston-based Mack Performing Arts Collective's Executive Director and Entertainment Attorney Jalene Mack collaborated on the launch of "Entertainment MPAC, an Entertainment Empowerment Tour," a one-stop empowerment resource where attendees network with industry professionals and learn the business (of show business) from industry experts through workshops that will EMPOWER, INSPIRE, and MOTIVATE success.

"I am ecstatic about this collaboration because it has always been my goal for MPAC to make an impact on the entertainment industry," says MPAC founder, attorney Jalene Mack. "We do just that when we connect entertainment industry resources to those that do not have access otherwise, which creates opportunities to be successful in this business."
The two-day conference features notable industry professionals who give aspiring and veteran actors, comedians, writers and producers the most effective strategies to get their projects and talents seen by Hollywood's top brass. Conference speakers include journalist and TV/radio host, Roland Martin; actor and comedienne, Kym Whitley; entertainment attorney, Ricky Anderson; Emmy award winning executive producer, Rushion McDonald; casting director, Kim Hardin; executive producer, Sara Finney Johnson; and television producer and writer, Felicia D. Henderson.
These entertainment and media professionals teach attendees about the industry from the inside out, sharing their personal knowledge and strategies to educate, motivate and empower those who want to break into the industry or move further along in their careers. Eight master class sessions held over the course of two days will give attendees the opportunity to learn how to transform their ideas through interactive activity into viable projects ready for the big league. What makes this tour different from the rest is not only does it impact the local economy in each host city, but it also provides a community outreach component by extending tour admission scholarships to select high school students with an interest in theater/film or communications/media from the local school districts allowing these future industry leaders to attend for free. The tour will help create an early blue print in preparation of their careers.
Rushion McDonald, executive producer of The Steve Harvey Show, believes the tour will provide enlightenment regarding the many opportunities available within the industry.
"With this Entertainment Empowerment Tour, I want to pull back the curtain and help people to better understand the many job opportunities that exist in the Entertainment Industry and to let them see that it's not the celebrities that have the power, but the people behind the camera," says McDonald.
Tour workshop sessions include the following:
"Casting with Kim – Character Development, Scene Study and Audition Techniques That Will Take Your Career to the Next Level"
"Television Talk – Developing, Packaging, and Selling a Viable Television Script"