Fiers Named American League Player of the Week
Recognition awarded after throwing a no-hitter against the Dodgers on Friday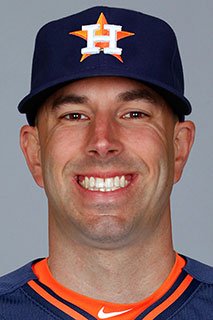 HOUSTON, TX - Major League Baseball announced this afternoon that Houston Astros right-handed pitcher Mike Fiers has been named the American League Player of the Week for the week of Aug. 17-23. This marks Fiers' first career Player of the Week award.
Fiers made history in his lone start during the week by tossing the 11th no-hitter in Astros franchise history (10th individual no-hitter) on Friday, Aug. 21. It was the first no-hitter ever thrown at Minute Maid Park, and the 10th complete game no-hitter by an Astros pitcher. Fiers allowed just three baserunners (all walks) while striking out 10 in his Friday night start against the Dodgers.
Prior to Fiers, the Astros last no-hitter was a six-pitcher combined effort on June 11, 2003 at NYY, tossed by right-handed pitcher Roy Oswalt, right-handed pitcher Pete Munro, right-handed pitcher Kirk Saarloos, right-handed pitcher Brad Lidge, right-handed pitcher Octavio Dotel and left-handed pitcher Billy Wagner. The last Astros pitcher to throw a complete game no-hitter was right-handed pitcher Darryl Kile on Sept. 8, 1993 vs. NYM.
According to the Elias Sports Bureau, Fiers became the first pitcher to throw a no-hitter after changing teams midseason since right-handed pitcher Jim Bibby in 1973. Fiers was acquired by Houston from Milwaukee along with outfielder Carlos Gomez on July 30 in exchange for four prospects. In his three starts with the Astros, Fiers has gone 1-0 with a 0.43 ERA (1ER/21IP) and 19 strikeouts.
Fiers joins left-handed pitcher Dallas Keuchel (July 13-19) and second baseman Jose Altuve (May 19-25) as the third Astros player to win a Player of the Week award this season. The last time the Astros had three players win a Player of the Week award in the same season was in 2008, when right-handed pitcher Roy Oswalt, third baseman Ty Wigginton, outfielder Carlos Lee and first baseman Lance Berkman (2x) all received NL Player of the Week honors.
In recognition of his American League Player of the Week award, Fiers will be awarded an engraved watch courtesy of Game Time, the leader in licensed sports watches, available at MLB.com.