Tiger Woods: Golfer's Season Comes to An Abrupt End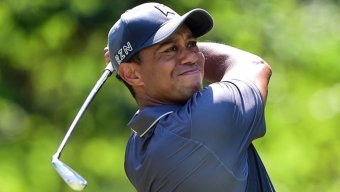 By Matias Grez
(CNN) -- Tiger Woods' season came to an abrupt end Sunday, but in a year of numerous lows, at the least the American golfer could console himself that he went out on a relative high.
Having missed the cut at three consecutive majors -- an unthinkable thought for the greatest golfer of the past two decades -- the 39-year-old was just two shots off the lead going into the final round of the Wyndham Championship.
The world number 257 had needed to win the PGA Tour event to qualify for next week's opening tournament of the FedEx Cup playoffs, but a triple bogey at the 11th and a bogey at the 12th ultimately proved costly.
"I gave myself a chance and I had all the opportunity in the world today to do it. I didn't get it done," Woods told the PGA Tour's official website after his final-round even-par 70 left him well outside the top 125 in the standings.
"(I've) got lots of soccer games and practice to go to, so I'll be doing that and just working out, training and trying to get more fit."
In what was his first appearance at the Greensboro, North Carolina tournament, the former world number one's hopes of winning evaporated after he failed to make a birdie until the ninth hole on the final round.
"I made the seventh, which was solid," Woods said. "Right in the middle of the hole."
"I had some makeable putts early that I missed. I just wasn't able to get any kind of roll early. I had my chances to get it going. I just never did."
The 10th-place finish -- his first since 2013 -- was four shots off eventual winner Davis Love III and means Woods' next appearance on the PGA Tour will come at the season-opening Frys.com Open in October.
It will be the first time he has played in one of the tour's fall events. He is set to line up alongside world No. 2 Rory McIlroy -- they were among a group of players given permission to drop out of the 2012 tournament in order to play an exhibition, on the condition they would fulfill their obligations by the end of this year.
Love, meanwhile, became the third-oldest winner on the U.S. circuit as he won the tournament for the third time, aged 51.
The American Ryder Cup captain moved from 186th to 76th in the FedEx standings to secure entry into next week's event, The Barclays at Plainfield in New Jersey.
It was his first PGA Tour victory since 2008, and the 21st of his career.
For more information, visit cnn.com