Houston Chamber Choir Celebrates 20th-Anniversary Milestone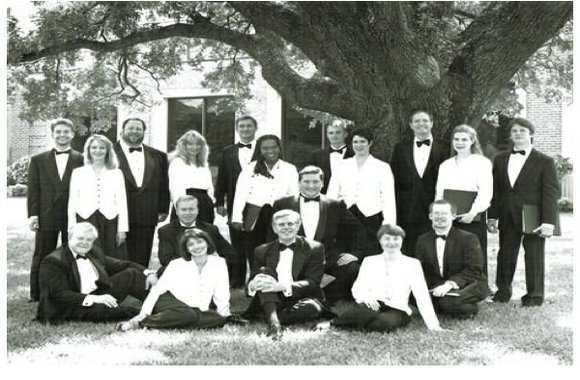 HOUSTON- The critically acclaimed Houston Chamber Choir is eagerly preparing for its 2015-2016 concert season: 20 and Counting! which will feature six subscription concerts and additional performances in celebration of the choir's 20th Anniversary. The first program entitled Now and Then, the First 20 Years will highlight many favorites from the ensemble's remarkable long journey.
In 1995, artistic director, Robert Simpson set out on a mission to create a professional ensemble dedicated to increasing the awareness, appreciation and esteem of choral music and musicians through performance, outreach and education. Two decades later, the choir has grown to be one of the nation's leading professional choral ensembles.
"I can hardly believe it has been 20 years...until I look at my boyish self in the first press photo we took back in 1995," says Simpson. "So many wonderful people, board members, donors, staff and musicians have brought us to this milestone, a milestone that no other professional choir in Houston has ever achieved. Our opening concert will be a time to celebrate them and renew our vision for the future."
The choir has traveled abroad to Mexico City with the Orquestra del Nuevo Mundo and the United Kingdom where it won honors at the International Choral Festival in Llangollen, Wales. Houston Chamber Choir has also taken center stage at several national conventions throughout the country, including the American Choral Directors Association, the Association of Anglican Musicians, the Texas Choral Directors Association and many more.
Noted as "one of the jewels of the city's cultural scene" by the Houston Chronicle, the choir has given the Bayou City an eclectic sound and an array of choral masterpieces including the city's first period instrument performance of Bach's B Minor Mass and the rarely heard Third Sacred Concert by Duke Ellington.
Be part of the fun and help us celebrate this landmark occasion. The first concert is scheduled for Sunday, September 20th, at the South Main Baptist Church, located on 4100 Main St., Houston, TX, starting at 4PM. For more information about the Houston Chamber Choir, concert dates and tickets, log on to our website, www.houstonchamberchoir.org.
Season subscription packages and individual tickets are available for purchase. For more information visit: www.houstonchamberchoir.org or call (713) 224-5566.