Black Biz Woman Launches Smart "Hair Extension" Vending Machine
Licensing opportunities available for entrepreneurs and existing hair salon owners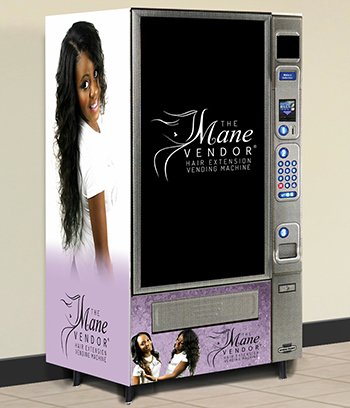 Washington, DC (BlackNews.com) -- Virginia entrepreneur Marcella Ellis, CEO and founder of the Mane Vendor "Hair Extension Vending Machine," is still strongly maintaining her firm's success in the hair care and distribution industry through her combination of education, modern technology, and beauty tools. In her upcoming city-to-city tour, Ellis will be providing "Look and Learn" live demonstrations, as well as promoting her new tool that is already creating the biggest "buzz" in the hair care industry since the flatiron. The innovative vending machine is revolutionizing the hair business through on-spot dissemination of premium hair and hair care products.
Many styling salons fail to sustain well-stocked inventories that cater to the needs of their customers. Issues arise when salon customers cannot acquire hair for weaves and extensions, forcing them to find an inconvenient third-party seller. Meanwhile, salons suffer revenue losses because they are often unable to meet demand.
However, the smart vending machine solves this issue by not only being an on-site seller but also by performing all transactions, creating no extraneous work for busy salon employees. This product derives even more versatility from the fact that it can also be placed in boutiques and cosmetology schools to provide for both salon customers and stylists-in-training.
Moreover, Ellis has made the machine even user-friendlier by creating a connected mobile app that will allow customers to locate the closest vending machines. Not only will clients be able to find and receive a variety of high quality premium hair, salon-owners will also be able to increase their company profit easily and quickly.
The machine connects with the app to provide real-time information on customer purchases, machine inventory, and geographical location . Overall, the combined potential of the machine and the app will expand salon clientele by directing customers to salons and encouraging them to purchase and use the hair products.
The Mane Vendor is already dispensing from salon locations in northern Virginia, North Carolina, Washington, California, and Texas. Marcella Ellis is scheduled to visit southern Virginia, North Carolina, Ohio, and Illinois in her upcoming Hair Explosion 2015 Tour. Similarly, plans are in the works for 2016 in Los Angeles, Las Vegas, throughout Texas, and other major cities. The tour will also display training classes on advanced styling skills, like vixen weaves and 3-part weaves, that Ellis's School of Cosmetology has to offer.
Ellis describes the tour as "a chance to educate salon owners and entrepreneurs on what the company can provide, particularly our product distribution tool, to help bring more profitability and business to salons. The Mane Vendor is not just a scalable business idea but is a response to a current problem. The most requested service in 80% of salons is hair additions and extensions. But the industry and the service have been separated because the salons do not carry the inventory or the products to deliver this most requested service."
Ellis's tour is an exciting chance for salons to take advantage of the Mane Vendor and reap the benefits of the product. The company's easy financing option is an invitation for all motivated salon owners and business savvy entrepreneurs desiring a constant stream of income to invest in the machine. The tour will be a direct licensing opportunity for entrepreneurs that want to be in business within 45 days for under $25K. The low costs and guaranteed profits are highly advantageous for anyone seeking to tap into the lucrative field of beauty.
In a nine billion dollar industry with few competitors and few convenient customer options, Ellis offers a solution that is both economically competitive and highly marketable. The vending machine has already received celebrity attention and endorsement from stylist Kim Kimble and is on the fast track to changing the hair care and distribution business. "We are a small company with a mission to help improve numerous salons throughout the nation. Here in our headquarters we love the phrase the 'Starbucks Effect' meaning we intend to saturate the market with an aggressive, efficient and strategic plan."
For further information on the vending machine, please visit www.themanevendor.com.