Should Yahoo CEO Marissa Mayer be fired?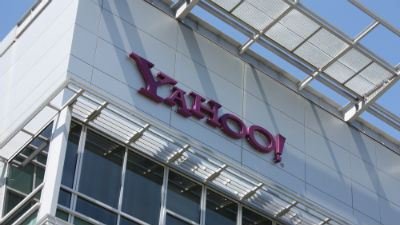 NEW YORK (CNNMoney) -- Yahoo CEO Marissa Mayer has repeatedly preached that it will take time for her to turn the company around.
But analysts and investors are increasingly reluctant to give her more time and even speculating about whether she should (or will) be fired sometime soon.
Shares of Yahoo have plunged nearly 35% this year and many on Wall Street are tired of hearing that Yahoo is a turnaround story. They want results.
SunTrust Robinson Humphrey analyst Robert Peck wrote in a report Monday morning that his clients have been asking him a lot about Mayer, especially since many Yahoo senior executives have left the company in the past few months.
This Yahoo "brain drain" has some investors worried that Mayer is managing a sinking ship.
"With the recent turnover in top level executives, some have questioned whether the CEO's position is stable," Peck wrote.
But Peck took it one step further.
"We held many conversations with leading industry participants and investors to gauge what attributes would be needed and who would be a strong potential CEO candidate, should the company ultimately decide to make a change," he wrote.
Some of the top candidates on this wish list?
Ross Levinsohn -- a former interim Yahoo CEO and current CEO of Scout Media Dan Rosensweig --a former Yahoo COO and current CEO of online textbook seller Chegg Jim Lanzone -- CEO of the digital unit of CBS and former CEO of IAC-owned Ask.com David Rosenblatt -- former CEO of online ad firm DoubleClick and current CEO of online luxury retailer 1stdibs Sheryl Sandberg -- Facebook COO
Peck felt that Levinsohn and Rosensweig would be the most likely candidates given their past experience with Yahoo.
But if Yahoo were to part with Mayer, investors may want someone who has more of a fresh perspective.
Ironically enough, Mayer was thought to be that person when Yahoo hired her away from Google more than three years ago.
And interestingly, several candidates cited by Peck also have Google ties.
DoubleClick was bought by Google in 2008 and Rosenblatt continued to work at Google for a year after the DoubleClick acquisition.
Sandberg was a Google executive before she joined Facebook.
And two other people cited by Peck as possible Mayer replacements also now work for Google: YouTube CEO Susan Wojcicki and Google, president of ad sales and operations for Google's North American and Latin American units.
Still, is Mayer's job really in jeopardy?
NYU Stern School of Business marketing professor Scott Galloway told Bloomberg in September that Mayer is the most "overpaid CEO in history" and that she still has her job only because she is pregnant. (Mayer is expecting identical twin girls in December.)
Those provocative comments surprisingly did not cause as big of a backlash as you might have expected though.
And it's likely because Yahoo has continued to struggle to turn itself around.
Shares fell 5% the day after the company's third-quarter earnings disappointed Wall Street.