Burlesque Beauties and Circus Capers: Performers From Around The World Gather in Houston
The Bayou City Burlesque & Circus Arts Festival returns to Warehouse Live, January 22nd and 23rd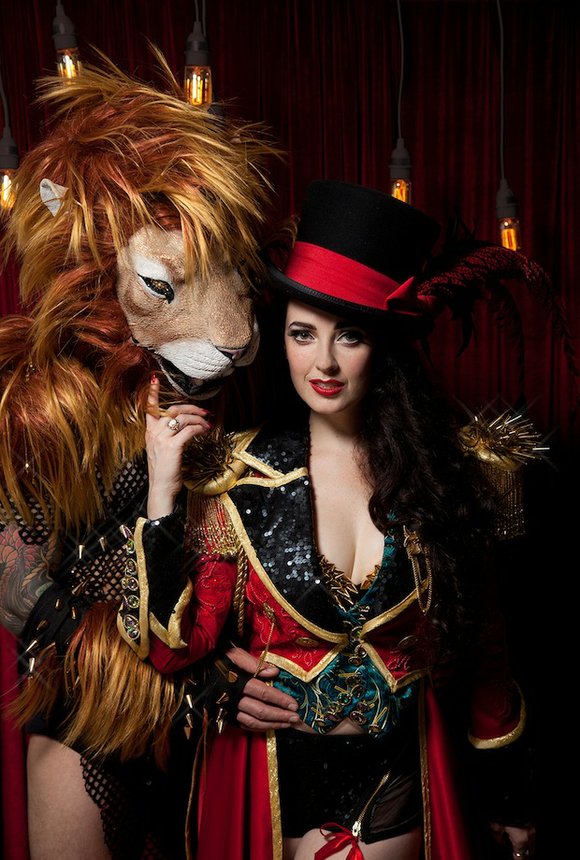 HOUSTON, Tx. December 7th 2015- Contortionist from Los Angeles. Acrobats from New York. Burlesque showgirls from Las Vegas. You don't have to be a jet setter with an unlimited budget to catch them all in one night, you just have to be in Houston this January. The Second Annual Bayou City Burlesque & Circus Arts Festival will be returning to Warehouse Live. The festival brings together two timeless and titillating performance arts to create a totally new kind of show. The event's world renowned acts include burlesque beauties, sideshow freaks, circus acrobats, and death defying aerialist that will leave you on the edge of your seat.
The BCBC Festival has developed a reputation for featuring top notch talent thanks to Houston's own internationally award winning burlesque performer, radio personality, and festival producer- KiKi Maroon. Forbes named Houston America's Fastest Growing City in 2015. While most focus on the city's population and job creation, Maroon focuses on it's impact on the arts. "Houston is growing so quickly and the entertainment is mirroring that growth! In the last couple of years, our home grown talent has seen the potential audience expand by the thousands. It's motivated us to develop just as quickly and give our city one-of-kind, world class shows on par with anything they'd find in Vegas or New York."
Every major city has their own burlesque festival, the most distinguished being events in Las Vegas, New Orleans, and New York City. Maroon and her team intend on making Houston's event just as renowned. To accomplish this they've booked over 40 local and national artist including:
-Leggy Lass Greenleaf: The Contortionist Burlesque Dancer (Los Angeles, CA), who's been featured on NBC's The Playboy Club, The San Diego Ballet, and The Edinburg Fringe Festival in Scotland
-Matt Finish: The Reining King of Burlesque (Tucson, AZ) crowned by The Burlesque Hall of Fame in Las Vegas
-Tansy and Her Ferocious Leeon : The Acrobatic Duo (New York, NY) featured in The Movers, Shakers, and Innovators Showcase at The Burlesque Hall of Fame
-Smolderin' Scully & Miss Malacious :The Sexy Trapeze Duo (Dallas, TX)
Tickets are available now at Warehouselive.com or BCBCfestival.com starting at $20. Those high rollers wanting the best seats in the house, gift bags, and entry into the performer and VIP only after party can pick up a VIP weekend package for $75.
So can this show compete with last year's record breaking debut? Maroon thinks so, "I've spent the last year traveling the world to find these performers. I love Houston. This city has supported every crazy, sexy idea I've had. This festival is my gift to the city. And I give the best gifts!"
Information and Tickets: