GHBC to Host Third Bi-Annual Hall of Fame Induction Ceremony Tomorrow
Special program will highlight accomplishments of inductees at The Buffalo Soldiers Museum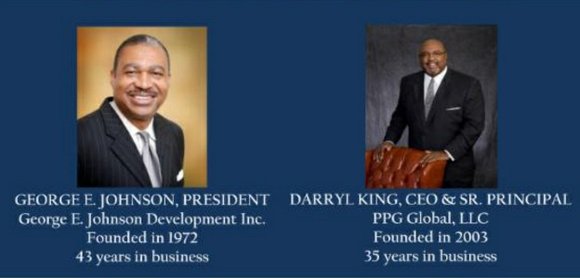 HOUSTON, TX – The Greater Houston Black Chamber of Commerce (GHBC) will host the third Bi-Annual Hall of Fame Induction Ceremony tomorrow, Tuesday, December 8, 2015 from 6-8 pm. The event, which is open to the public, will be held at The Buffalo Soldiers Museum at 3816 Caroline St., Houston, TX 77004.
The salute to exemplary Black-owned enterprises in Houston will open with a performance of the national anthem by 13 year old internet singing sensation Nicholas Connors, followed by a special program highlighting the accomplishments of the inductees and their contributions to the Greater Houston Black Chamber.
The business leaders selected for Hall of Fame induction are Darryl King, CEO and Sr. Principal of Principle Partnering Group Global, LLC and George E. Johnson, President of George E. Johnson Development Inc. The ceremony will induct these members in acknowledgement of their longstanding service and commitment to the GHBC.
To be elected, nominees must be in business for a minimum of 10 years and have a demonstrated track record of providing community service and entrepreneurial development in the Houston area, as well as active membership in the GHBC. Only two inductees are selected every other year. Each Hall of Fame member will serve as a goodwill ambassador of the GHBC and a mentor to other Chamber members. They will also serve as an Honorary Chair of The Pinnacle Awards in a designated year.
The event is open to Chamber members at no charge and to non-members for $25.
About the Greater Houston Black Chamber
Since 1935, the Greater Houston Black Chamber (formerly the Houston Citizens Chamber of Commerce) has served as an advocate for African-American business owners and professionals in the Houston area. Now in its 80th year, the organization's portfolio of services and programs has grown to embrace the ever-changing the needs and dramatic growth of its membership. The GHBC continues to provide value to members, area businesses and the community and has remained committed to the pursuit of success by Houston's African-American enterprises.
With much of the nation's attention focused on the economic state of the country, the GHBC has kept the needs of Black business owners at its forefront, earning and maintaining its position as a premier organization focused on the prosperity and growth of Black entrepreneurs. Today, the Chamber remains steadfast in its mission to provide advocacy, awareness and access to African-American businesses within the community.
For additional information, visit GHBCC.com.