Stitches Gets Jumped By His Own Crew, Says The Game Paid Them Off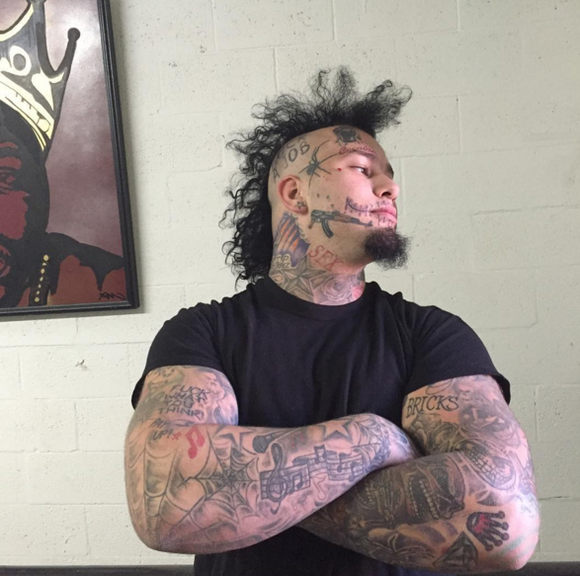 It's been a rough few days for Stitches.
Three nights ago, Game came through Stitches' hometown of Miami to begin his birthday weekend. Stitches waited outside of the club for Game and when he tried to approach the Compton rapper, he was quickly K.O.'d by Wack 100, Game's manager.
Both Wack and Stitches went to jail for a night, and when Stitches got out the next day, he remained intent on setting up a one-on-one showdown with The Game. Well, he hasn't gotten that opportunity yet, but he did endure another fight. Today, looking far shabbier than when he shared his last video, Stitches admitted that, after getting out of jail, he was jumped by his own crew, whom he claims were paid off by The Game.
"Yeah, I got sucker-punched the other day. Ain't nobody hiding their face. And I got jumped by my own nggas yesterday. Ngga, all y'all pussy," said Stitches, before holding a little white dog up to the camera.
This shit don't make me or break me . It taught me to literally trust no one . Fuck the game and fuck the niggas who jumped me yesterday . You know where I be at . Anybody can run up and get it. I will continue to shit on all of them cause at the end of the day I remember niggas begging me like little bitches to shout them out on Instagram 😂😂😂😂😂. You did good cutting that check to niggas @losangelesconfidential . But I promise Ima catch you punk bitch . And fuck anybody who can't repsect the fact I walked up to him myself and he couldn't do his own dirt . #ilovemyloyalfans #fuckthegame #pussyniggaisyoname #hoes #donttrustanyone #learnfromyourmistakesandcomebackharder. You gonna see my money talk for me now . Fuck fame fuck rap . Watch me sucka. Stay tuned. Watch me get richer now. If you ain't rocking with me get off my page sucka
"This dog right here is harder than all y'all. He can do more damage than all y'all. Y'all pussy. I'm still standing. Come back and come back, y'all n*ggas gon' die."
Hopefully the worst is over for the "Brick In Yo Face" rapper.
For more information go to http://www.hotnewhiphop.com