NBA Fashion: Chris Bosh, LeBron James Dress to Impress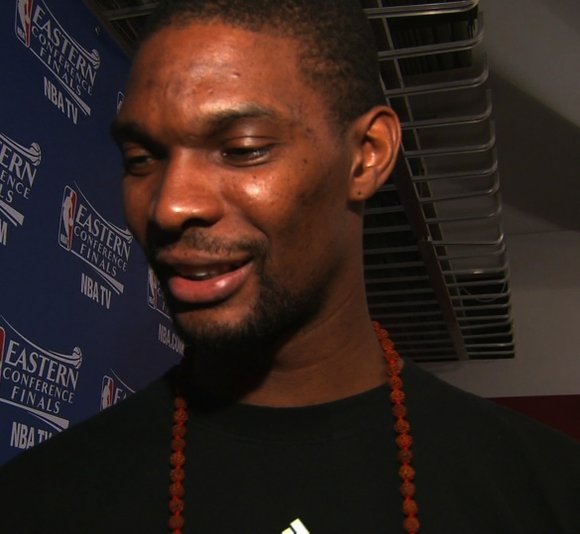 By Motez Bishara
CNN
(CNN) -- For Chris Bosh, the process of walking in and out of an arena, attending press conferences, and even watching games while sidelined, took on new meaning when he joined forces with LeBron James and Dwyane Wade for the Miami Heat in 2010.
While the Heat were dominating opponents on the basketball court, behind the scenes the "Big Three" engaged in a fierce battle of pride over who would dress the sharpest each night.
"That's what made it so fun, because it was competitive," Bosh, the Heat's 10-time All-Star forward, tells CNN. "It was like, 'Okay, I'm gonna bring my 'A' game, and I know he's going to bring his 'A' game.' I was excited just to see what guys were going to wear; that was my favorite part of the day."
As the longtime stylist in Wade's corner, Calyann Barnett had a prime seat for the high-stakes, haute-couture face-off.
"They had to all be dressed to the nines for every single game," she says. "You definitely have to step up your game when you're on a team with one of the lead fashion guys."
The NBA has long been a fashion-forward league, from the fur coats and checked blazers of Walt Frazier and Wilt Chamberlain to the tattoos and rainbow hairstyles of Dennis Rodman, and the cornrows of Allen Iverson and Latrell Sprewell.
But over the past 10 years, the likes of Bosh and Co. have transitioned into slick trendsetters, joining the celebrity elite. Now dozens of top players take their wardrobes a lot more seriously by employing fashion consultants who deck them out while (usually) sidestepping potential disasters.
The pitch, according to Bosh's stylist Kesha McLeod, is that players need to delegate their outfitting to specialists in order to focus on what they do best: Playing basketball. In other words, leave the style decisions to the professionals, please.
To be sure, there is more work to a player's look than meets the eye. McLeod and Bosh meet for extended sessions before each season to discuss themes, and follow up every two weeks to organize outfits.
"It's really, really important because, you know, I have to coordinate," says the 6-foot 11-inch power forward. "It's quite a bit of outfits, a lot of dressing."
Working only from items she has sourced, McLeod sifts through Bosh's 55 pairs of dress shoes, 40 suits, 35-40 dress shirts and six sports coats to prepare 20 looks each month.
Before every road trip, she'll pack a number of outfits and accompany them with instructions in an email.
"I write down the date, who they're playing, the weather, if it's national TV or if it's local TV," McLeod says. "I also put notes like, 'Can remove jacket,' 'Can roll up sleeve,' 'Can do with or without tie,' 'If it rains, throw on this sock.'"
Bosh, who is in his sixth year with Miami, happily obliges. "I kind of take it seriously. You always want to look good wherever you go, and it's really cool when somebody takes notice," he says. "It's a lot of fun."
All-Star Weekend: exhibition in hoops and fashion
People take plenty of notice during the annual marketing bonanza known as All-Star Weekend, where Bosh has been a participant every year of his career (the first two as part of the Rookie Challenge.)
This February, a sure-to-be frozen Toronto plays host, bringing on a new set of complications for the super-stylists.
"It's a lot more luggage, because of the coats I have to pack, boots I have pack, the furs I have to pack," McLeod says, visualizing Bosh's winter wardrobe. "I basically pick up his closet and take it with me."
She will typically arrive four days before the weekend, traveling with up to five suitcases as excess luggage in order to arrange Bosh's closet in advance.
"I'll set up his room to where he enters and everything is already laid out," McLeod says. "The only thing he's doing is removing his clothes, putting down his bag, picking up his pajamas and going to bed for the next day."
To fulfill all their appearance obligations, McLeod assembles five looks a day for her All-Star clients, who also include Golden State's NBA Finals MVP Andre Iguodala and Oklahoma City's Serge Ibaka (though her most decorated client is tennis ace Serena Williams.)
Each player is assigned an assistant, while McLeod darts between rooms when called upon.
"We probably have a fitting room full of stuff," Bosh says. "We make edits and last-minute decisions, and we'll just have a lot options."
"You know, if I want to wear a coat, I might have three or four coats there," he chuckles. "It's kind of like going shopping with my own stuff."
Showbiz pervades NBA
"It's so Hollywood," Barnett says, emphasizing the blurred lines between entertainment and professional sports.
"When it comes down to it, NBA players are really as big superstars as any music artist or actor, and they have the fame and money behind it. So why shouldn't they be dressed? Why shouldn't they have stylists? Why shouldn't they look the part?" she asks.
Barnett met Wade in 2007 at an ESPN photo shoot and the two have been close since. Working together, the 6-foot 4-inch guard has blossomed into perhaps the NBA's foremost fashion icon (Bosh calls him the "godfather" of the movement.) Last year he married actress Gabrielle Union, forming a stylistic power couple.
"The designers have realized that they (basketball stars) have marketing power," says Barnett. Indeed, thanks in part to relationships fostered by their stylists, Wade is one of a handful of NBA leading men to have partnered with high-end designers and watch makers.
Wade has an ongoing sponsorship deal with Swiss watchmaker Hublot, while LeBron James has been a brand ambassador for Audemars Piguet. Russell Westbrook, the Oklahoma City point guard whose flashy play matches his wardrobe, has signature clothing lines with Barneys and True Religion.
"They can actually wear great tailored suits. They have bodies with big broad shoulders and small waists and height, so they are natural models when it comes down to it," says Barnett, who also works with Rajon Rondo, LaMarcus Aldridge and top rookie Karl-Anthony Towns. "Their hanger appeal is amazing."
The rebirth of NBA style
It's generally accepted that the dress code imposed in 2005 was the first catalyst to change the style culture of the NBA.
Following concerns about the league's image in the wake of the "Malice at the Palace" Pacers-Pistons brawl, then commissioner David Stern insisted on business attire when traveling to and from games -- outlawing big chains, throwback jerseys and big tall tees, the popular look at the time.
"I think it was really good for the game, and really good for the style," Bosh says of an edict that was widely resisted at the time. "Before there was no incentive to dress (well) all the time. What the dress code did is make guys restructure things, and really be stylish and comfortable at the same time.
"Once we started doing that, people started to take notice and it kind of became a thing," he adds. "Once it becomes a thing, you have to keep up with the Joneses a little bit."
For some of the league's style aficionados, that also means keeping their designers away from other players.
London-based Adrien Sauvage, who has tailored dozens of bespoke suits for Wade, limits his NBA client base intentionally.
"I know that these things are quite competitive, so I never really dress more than one person on the same team," he says. "Just because it gives them that exclusivity; it's like 'Look, that's my guy.'"
Sauvage, who is 6-foot 5-inches tall and a former youth basketball player for Great Britain, says this is partially to do with the scarcity of finding well-fitting clothes in larger sizes -- a nearly impossible task until recently.
"These guys can't just go into a shop and say, 'Yo let me just snap that Givenchy jacket,'" he says. "But then at the same time they don't want some old Winston Churchill clothes, and that's what was available for them at the time.
"They want the modern fabrics, they want a bit of a stretch."
The scramble for large sizes
"When I first got into the league, it was a struggle," recalls Bosh, who was drafted in 2003 along with James and Wade. "The best part about the fashion attention with the league is that designers actually started making long jeans, and catering to the longer male."
Until recently, the few designers who made larger sizes took advantage of their scarcity, says Matthew Chevallard, founder of Miami-based Del Toro shoes.
"Brands did not respect these guys," he emphasizes. "In fact they disrespected them. They would hustle them and charge them crazy premiums. No one wanted to invest in tooling to make their size."
"No one really looked at them as ambassadors in any way whatsoever," adds Chevallard, who features Dallas Mavericks forward Chandler Parsons as the face of his brand.
Del Toro's flagship Miami store was one of the first places where NBA players could find large sizes in an array of colors and styles. In the past, team buses would park outside of specialist Friedman's Shoes in Atlanta, where Magic Johnson reportedly spent $35,000 in one go.
"All the guys originally were just ordering 20 at a time," marvels Chevallard, who says he has clients on all 30 NBA teams, and calls many of them friends. "They were literally treating it as a fashion show at every game."
Meanwhile, they began attending actual fashion shows. "When you look at the runways now in Milan, Paris and New York, who do you see sitting front row? You see a lot of the NBA players," says Barnett.
Moreover, the designers note that those same players have helped popularize the concept of dressing to impress.
"The NBA has helped to communicate that looking good and caring about your presentation is a good thing, it's a positive thing," says Chevallard. "I think they've played such an unbelievable role in changing people's perception of style."
Sauvage agrees, though he says the NBA has some unfinished business that he'd like to attend to.
"One person I really want to dress is Michael Jordan," he says of the six-time champion and owner of the Charlotte Hornets, who retired in 2003. "Just to sort him out."
For more information, visit cnn.com