NBA Fashion: Chris Bosh, LeBron James Dress to Impress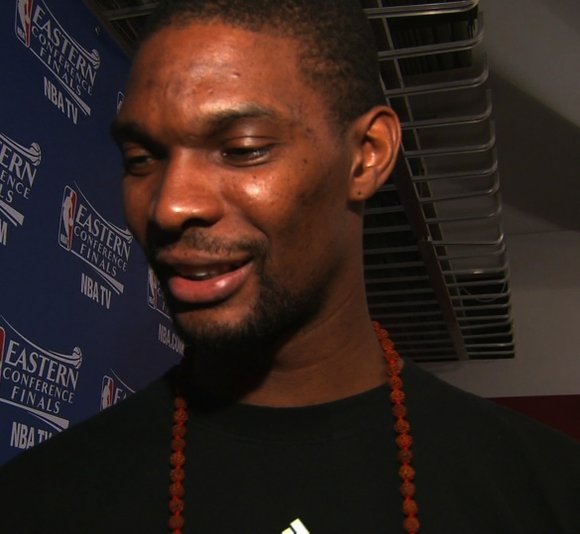 All-Star Weekend: exhibition in hoops and fashion
People take plenty of notice during the annual marketing bonanza known as All-Star Weekend, where Bosh has been a participant every year of his career (the first two as part of the Rookie Challenge.)
This February, a sure-to-be frozen Toronto plays host, bringing on a new set of complications for the super-stylists.
"It's a lot more luggage, because of the coats I have to pack, boots I have pack, the furs I have to pack," McLeod says, visualizing Bosh's winter wardrobe. "I basically pick up his closet and take it with me."
She will typically arrive four days before the weekend, traveling with up to five suitcases as excess luggage in order to arrange Bosh's closet in advance.
"I'll set up his room to where he enters and everything is already laid out," McLeod says. "The only thing he's doing is removing his clothes, putting down his bag, picking up his pajamas and going to bed for the next day."
To fulfill all their appearance obligations, McLeod assembles five looks a day for her All-Star clients, who also include Golden State's NBA Finals MVP Andre Iguodala and Oklahoma City's Serge Ibaka (though her most decorated client is tennis ace Serena Williams.)
Each player is assigned an assistant, while McLeod darts between rooms when called upon.
"We probably have a fitting room full of stuff," Bosh says. "We make edits and last-minute decisions, and we'll just have a lot options."
"You know, if I want to wear a coat, I might have three or four coats there," he chuckles. "It's kind of like going shopping with my own stuff."
Showbiz pervades NBA
"It's so Hollywood," Barnett says, emphasizing the blurred lines between entertainment and professional sports.
"When it comes down to it, NBA players are really as big superstars as any music artist or actor, and they have the fame and money behind it. So why shouldn't they be dressed? Why shouldn't they have stylists? Why shouldn't they look the part?" she asks.
Barnett met Wade in 2007 at an ESPN photo shoot and the two have been close since. Working together, the 6-foot 4-inch guard has blossomed into perhaps the NBA's foremost fashion icon (Bosh calls him the "godfather" of the movement.) Last year he married actress Gabrielle Union, forming a stylistic power couple.
"The designers have realized that they (basketball stars) have marketing power," says Barnett. Indeed, thanks in part to relationships fostered by their stylists, Wade is one of a handful of NBA leading men to have partnered with high-end designers and watch makers.
Wade has an ongoing sponsorship deal with Swiss watchmaker Hublot, while LeBron James has been a brand ambassador for Audemars Piguet. Russell Westbrook, the Oklahoma City point guard whose flashy play matches his wardrobe, has signature clothing lines with Barneys and True Religion.
"They can actually wear great tailored suits. They have bodies with big broad shoulders and small waists and height, so they are natural models when it comes down to it," says Barnett, who also works with Rajon Rondo, LaMarcus Aldridge and top rookie Karl-Anthony Towns. "Their hanger appeal is amazing."