Board Certified "Celebrity" Plastic Surgeon Speaker and Business Mogul Dr. Myla Bennett Powell Selects "The epiMediaGroup, LLC" as Public Relations Firm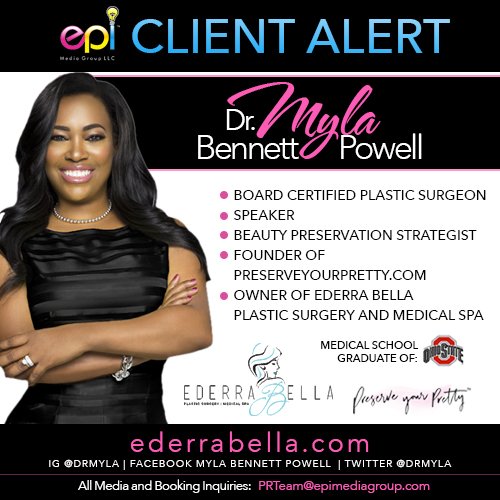 (December 16, 2015- Atlanta, GA) On December 14, 2015 "celebrity" plastic surgeon, speaker and business mogul, Dr. Myla Bennett-Powell, selected The epiMediaGroup, LLC, (epiMediaGroup) a national PR, marketing, branding & business consultation firm, as her official public relations agency. Affectionately known as Dr. Myla, she has become one of the most sought after female plastic surgeons on the east coast. Specializing in aesthetic surgery of the face and body, as well as, non-surgical facial rejuvenation, Dr. Myla found www.preseveyourpretty.com- a website used as a platform to share her tips as a beauty preservation strategist.
After graduating from The Ohio State University Medical Center in general surgery and plastic and reconstructive surgery, Dr. Myla's goal has been to gain exposure to cutting edge products, treatments, and surgical procedures to prevent, slow down, and even reverse the signs of aging. Featured in both national and international publications and networks including, Single and Living Fab, Black America Web, NBC, The Tom Joyner Morning Show, Radio One, and many more, Dr. Myla continues to strive to become a household name through national recognition.
By combining experience, instinct, and strategy, The epiMediaGroup, LLC team will produce consistent brand recognition for Dr. Myla. In addition to specializing in aesthetic surgery of the face and body, as well as, non-surgical facial rejuvenation, Dr. Myla's expertise extend to body contouring, breast surgery, tummy tuck and liposuction. As she prepares for the grand opening of her private practice, Ederra Bella Plastic Surgery and Medical Spa, PC, she sought after an experienced public relations firm that would properly promote her general and professional visibility. "When deciding on a public relations firm we, my husband and I, consulted with many strong public relations companies in the Atlanta market but once I met Ebony from The epiMediaGroup, LLC it was clear that it was my only choice. I'm so excited for the future of my business with such a professional and classy company," explained Dr. Myla.
The epiMediaGroup, LLC will increase Dr. Myla's recognition in target markets through the use of exposure in the media using the ever increasing vast network of television, radio, newspapers, internet and magazines. Dr. Myla is currently preparing to share her medical expertise through seminars, conferences, and expos.
Share this story online at www.stylemagazine.com