Audrey Lawson: A Legend in Her Own Right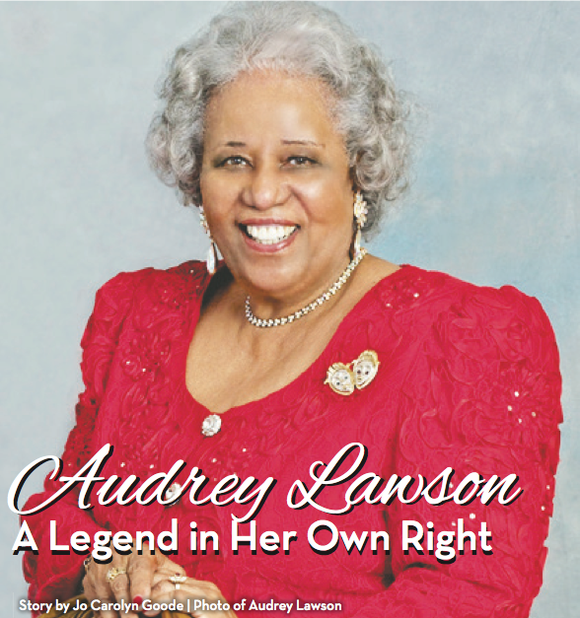 Behind every great man is a great a woman may be true for some couples but when it comes to Bill and Audrey Lawson I liked to believe in this life that they journeyed side-by-side for she was just as legendary as her husband. That is why her passing has left such a void and some mighty big shoes to fill. She died at her home on Saturday, December 12, 2015. She was 83.
Word quickly spread throughout Houston as many were sadden when they learned of the death of Lawson. Dorothy Booker, her friend for over 50 years, felt the news especially hard. Bonding as sisters-in-Christ, the pair became friends studying scripture in Bible study classes lead by Lawson's husband, Rev. William A. Lawson. In fact, Booker was one of the charter members of the very church that Lawson was the First Lady Emeritus of, Wheeler Avenue Baptist Church. "They worked hand-in-hand on 99% percent of the matters of the church," Booker recalled.
Their friendship would continue to develop over the years as Booker respected Lawson both as the First Lady of the Church and as her friend. She would always say, "Let's pray," said Booker, who remembers Lawson as someone she could always talk to about anything. "She knew how to counsel people. I will never forget her."
Lawson was known to be a lover of many things but non-surpassed her love for children. Booker smiled as she remembered the times Lawson helped her with her own daughter when she was a first time mother. Lawson's passion for children spilled over from helping her friends' children to the children of the church. Many youth programs that are still active today at WABC where started by Lawson herself including the Boy Scouts, Girl Scouts, Transformation, Rites of Passage and others. "She wanted to see the growth of boys and girls, " said Booker.
At one point Lawson looked into a career with Girl Scouts since she enjoyed the organization as child and had a background in social work. Life would take her in a different direction but not away from Girl Scouts. In 1974, she attended to start the ball rolling for Girl Scouts troops to be established Wheeler Avenue. Around that time Karen Reese was one of many volunteers who answered the plea when Lawson called amongst the membership of the church for those interested in being troop leaders. "She was always supportive of what did and needed. She constantly encouraged us to expose the girls to leadership and growth opportunities," said Reese, who was also troop leader of Lawson's granddaughters.
I am privileged to say that I am one of many little girls who benefitted from the establishment of the Girl Scouts at WABC. And I remember Mrs. Lawson well. She always had a bright smile, warm embrace, and gave off positive energy that made her glow.
Her light reflected beyond the campus of Wheeler Avenue to the streets of Houston, Main Street to be exact. Located on Main Street in the heart of Houston's Midtown on Main Street is a booming cultural arts and entertainment district thanks to the hands of Lawson. The Ensemble Theatre established some thirty-six years ago by George Hawkins brought Black theatre to Houston. It was a struggling little theatre that suffered even more when Hawkins feel critically ill. Thanks to Lawson the Ensemble Theatre was saved through donations she helped to raise. She literally helped to keep the doors open and the stage lights on. "Mrs. Lawson's longstanding and steadfast support of and commitment to the Ensemble Theatre is why the theatre's mission of preserving African American artistic expression and enlightening, entertaining and enriching this diverse community continues nearly 40 years after it was founded in 1976," said Alaina King Benford, Ensemble Theatre Board of Directors.
Final arrangements for Audrey Ann Hoffman Lawson have been scheduled at Wheeler Avenue Baptist Church, 3826 Wheeler Ave. The wake is scheduled for Thursday, December 17th from 6-9 p.m. A viewing will be on Friday, December 18th from 9-11 a.m., and will be immediately followed by the funeral.
For more information, visit www.wheeleravebc.org or www.stylemagazine.com.