South Texas Alumnae and New JAG Officers Administered Oaths by Former Law Professor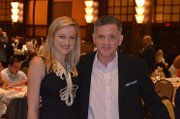 HOUSTON (Dec. 22, 2015) – Two female graduates of South Texas College of Law/Houston recently took professional oaths – administered by their law professor Geoffrey S. Corn, a former U.S. Army JAG officer who retired in 2004 as a lieutenant colonel – that marked important entry points into their respective legal careers.
Stacy Saxon, who was commissioned as an ensign in the U.S. Navy JAG Corps in June of this year, was sworn into the State Bar of Texas by Corn, upon her request. Barkley Bryant took that same oath, and also asked Corn to administer the military oath to her to "support and defend the Constitution of the United States against all enemies, foreign and domestic… and to faithfully discharge the duties of the office," she entered, thereby commissioning her as a first lieutenant in the U.S. Army.South Texas College of Law/Houston alumna Stacy Saxon – the first student in the Law School's 92-year history to earn acceptance to the JAG Corps programs of the U.S. Navy, the U.S. Army, and the U.S. Air Force – will continue her Navy JAG training in Rhode Island next month.
South Texas President and Dean Donald J. Guter – former judge advocate general of the U.S. Navy and a retired rear admiral – attended the graduates' swearing-in ceremonies and lauded the new officers' commitment to service, integrity, and helping others.
Saxon and Bryant – May 2015 graduates of the Law School – credit both Guter and Corn as instrumental mentors during law school, as well as throughout their journeys to apply for the highly competitive military JAG Corps.
"Professor Corn played a large role in my desire to become a U.S. Navy judge advocate," said Saxon. "He told us that everything we did as students directly impacted our ability to advocate for future clients. I work to keep that mindset as I complete my military training. Giving 100 percent now will enable me to be the best advocate I can be for sailors and Marines down the road."
Saxon is the first student in the history of the 92-year-old Law School to earn acceptance to the JAG Corps programs of the U.S. Navy, the U.S. Army, and the U.S. Air Force – an exceptional achievement, as only approximately 7 percent of all applicants are selected to become JAG officers.
She graduated from the Navy's Officer Development School in Newport, Rhode Island, which began in October, and will enter JAG training at the Naval Justice School in January on the same base. Following this 10-week training, she will be certified to practice law as a judge advocate in the Navy and will be stationed in San Diego for two years.
In January, Bryant will attend the U.S. Army Judge Advocate Officer Basic Course, beginning with the six-week Basic Officer Leadership Course, at the U.S. Army Maneuver Center at Fort Benning, Georgia. She will complete the second 10-week phase of her JAG education at The Judge Advocate Legal Center and School in Charlottesville, Virginia (where another of her former law school professors, Matthew Festa, also teaches as a major in the U.S. Army Reserve). Bryant then will embark on her legal military career while stationed in Fort Riley, Kansas, home of the storied "Big Red One" 1st Infantry Division.