Woman Accused In Las Vegas Strip Crash Was Once Scholarship Recipient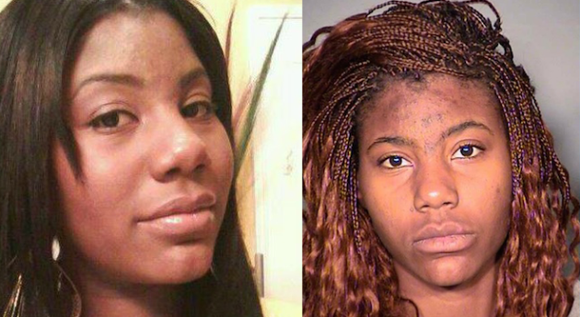 Lakeisha Holloway is the young woman charged with mowing down a group of pedestrians in her car on the Las Vegas Strip last Sunday while her 3-year-old daughter was strapped into a car seat in the back. Her alleged actions resulted in the death of another young woman who was visiting Las Vegas and dozens of people injured.
But another tragedy has emerged in this situation. It is the tragedy of Holloway herself, who was once viewed as a success story.
Madame Noire reports:
Despite the charges, the mugshot, and the accounts of her behavior on Sunday, those who knew Holloway a few years back in Portland, Ore., saw her in an entirely different light. She was, at one point, a 21-year-old who worked a 1.41 GPA in high school up to a 3.4, according to The Root. And her turnaround, from being a homeless teen, allegedly kicked out of her home by an alcoholic mom, to a promising student, helped her earn $17,000 in scholarships and become a first-generation college student.
"Boy, have I come a long ways," Holloway said while telling her story in a video from the Portland Opportunities Industrialization Center in 2012. "I was a scared little girl who knew that there was more to life outside of crime, drug addiction, lower-income, alcoholism, being undereducated—all of which I grew up being familiar with."
But things changed for Holloway. She obviously had a child, legally changed her name to Paris Paradise Morton in October, and found herself in Las Vegas, for about a week according to authorities, living out of her car with her child…
The family of Holloway said that what they've heard about the crash doesn't make sense when they think of the young woman they know.
"None of it made any sense," said Lashay Hardaway, Holloway's cousin. "It just didn't add up to who she is. She loved her family, she loved her daughter, she loved God, this was just traumatic for everybody."
And very confusing for a young woman who had so much potential.
"Today I am not the same scared girl I used to be. I am a mature young woman who has broken many generational cycles that those before hadn't," Holloway said in that Portland Opportunities Industrialization Center video. "Being homeless and struggling on my own taught me to stand on my own two feet. I managed to land a federal job at age 21—now, that is what I call living the grand life."
For more information go to http://www.blackamericaweb.com