The Tips in The Green Beauty Rules Make That Glamorous Glow Happen In A Healthy Way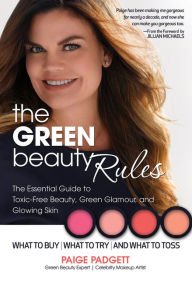 "Finally, a green beauty book written for the glamorous girl. Paige has been a makeup artist for ten years. No one is more qualified to show you how to be glamorous and green. [She] explained to me that just like toxic chemicals in food, toxic chemicals in cosmetics are just as harmful to your body. Paige Padgett shows you exactly how to rid your beauty routine of toxic chemicals without having to make your own cosmetics or settle for substandard beauty products that don't work. She will empower you to make good choices for you and your family while keeping you gorgeous. With something useful for everyone, The Green Beauty Rules is the green beauty book you've been waiting for…"
– Jillian Michaels
Los Angeles, CA, December 29, 2015 - Looking fabulous should never be at the expense of good health. The Green Beauty Rules: The Essential Guide to Toxic-Free Beauty, Green Glamour and Glowing Skin (HCI Books -- $21.95) by makeup artist to the stars Paige Padgett, bridges the gap between No More Dirty Looks and Bobbi Brown beauty books. Paige helps women seamlessly 'green' their beauty routines with a step-by-step guide and a sample clean beauty routine that offers approximately 200 chemically-safe beauty products, all ranking 3 or lower on the Environmental Working Group's Skin Deep Cosmetic Database. This beautiful guide, packed with tips and tricks to get a toxic-free, gorgeous makeup look is sheer luxury on a budget for anyone wanting to learn how to create a glamorous look – safely!
Chapter by chapter Paige Padgett explains why she got started on this green beauty journey, what to look out for, and why to care about the ingredients of your favorite cosmetics. Paige explains "After attending Ken Cook's 'Ten Americans' lecture I was blown away to find that an average of 287 chemicals are found in our bodies. Some of these chemicals were banned 30 years ago. Shockingly enough, some of these chemicals compound in our bodies and are passed down through our parents. Since then I decided I would eliminate toxic chemicals from my cosmetics and teach others how to do it as well."
Since making the greening shift can be overwhelming, Paige holds the reader's hand throughout the transition. She stresses to take things one step at a time, figure out what products work best for you, and how to get the most out of certain products that can be used for more than one need.
One of the best takeaways from Padgett's book is that "green," "natural" and "organic" do not need to be expensive. Green beauty products have come a long way since she first started and now products are vibrant, smell great, and are as effective (if not more) as popular brands.
Highlights from the book include:
• Debunking the five biggest green beauty myths (Chapter 1 Green Beauty Pioneer)
• Three eco-attitudes and how to flow between them (Chapter 1)
• Paige's 80/20 beauty diet (Chapter 2 Beauty from the "Outside In")