Patriots Euphoric After Super Bowl Despite 'Deflategate'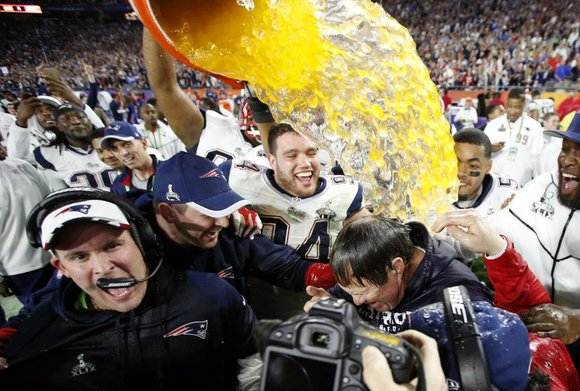 (Reuters) - The New England Patriots rallied to beat the Seattle Seahawks on Sunday in what will go down as one of the greatest Super Bowls of all-time but who the real winner is could well be debated for decades to come.
The buildup to the Super Bowl had been dominated by a controversy over deflated footballs used by the Patriots in a blowout win over the Indianapolis Colts in the AFC title game that earned them a trip to Arizona.
A whiff of scandal continued to hang over Sunday's game even as the Vince Lombardi Trophy was hoisted and confetti fell from the roof of the University of Phoenix Stadium still trembling from New England's heart-stopping win.
Read the full story, visit at http://www.reuters.com/article/2015/02/02/us-nfl-super-idUSKBN0L600X20150202?feedType=nl&feedName=usmorningdigest