Rice Launches Religion and Hip-Hop Culture Online Course
Free class by Anthony Pinn and Bernard 'Bun B' Freeman kicks off March 24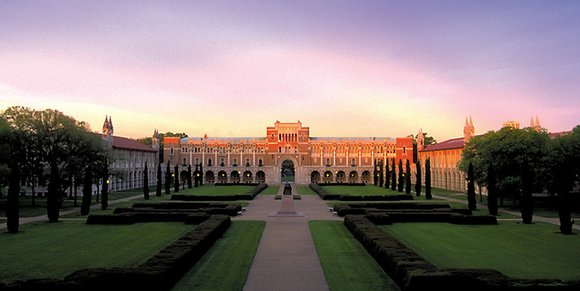 HOUSTON – (Feb. 2, 2015) – Religion and Hip-Hop Culture is a new and free edX online course being offered by Rice University's Center for Digital Learning and Scholarship. The class will feature Religious Studies Professor and Founding Director of the Center for Engaged Research and Collaborative Learning (CERCL) Anthony Pinn and CERCL Distinguished Visiting Lecturer and Grammy nominee Bernard "Bun B" Freeman. The course is now open for enrollment and will begin March 24.
The Religion and Hip-Hop Culture course, or RELI157x, is the first massive open online course (MOOC) for Pinn and Bun B. The online course is built upon and expands the popular class they have taught together at Rice University.
"Our classroom course at Rice went so well that people off campus were contacting us and asking us about the course and how they could take it," Pinn said. "Working with Bun in the classroom, it became clear that there were ways of learning and teaching that we hadn't tapped. The MOOC gave us a way to be even more creative and innovative in terms of how we link the rest of world with the cultural richness and diversity of Houston to get information across."
The Religion and Hip-Hop Culture course will explore questions such as, What is religion? What is hip-hop? Are they the same thing? Do they overlap? Over the six-week course, Pinn and Bun B will provide the tools necessary to let students critically engage the world in which they live and answer these questions for themselves.

"This course takes two important cultural developments in human history and looks at their points of commonality and their differences," Pinn said. "The idea is to do that in a way that gives students a vocabulary, grammar, ideas and concepts that will allow them to think about and work on related issues within their own context."
The course will start with some basic assumptions, the most important being a willingness to think about hip-hop and religion as cultures that wrestle with the huge questions of human existence. Pinn and Bun B said that students will also need to be open to the possibility of hip-hop as a language through which complex questions, including some about religion, are presented, explored and interpreted.
"This course gave me the opportunity to let people see a side of hip-hop that isn't always discussed," Bun B said. "We've started a conversation that cannot end until people have a better understanding of who we are and what we do."
The Religion and Hip-Hop Culture course will use a mix of videos, readings, music, images, stories and behind-the-scenes insider perspectives. Pinn and Bun B are leading collaborations between Rice University and local institutions to engage the Houston community in conversations inspired by topics in the course.
This is the 23rd MOOC offered by Rice's Center for Digital Learning and Scholarship.
"This course reflects the university's commitment to experimental teaching and research that engages dynamically with Houston arts partners," said Caroline Levander, Rice's vice president for strategic initiatives and digital education. "The result is a course that showcases the cultural innovation for which Rice and Houston are known."