10 Reasons Why I Believe I'm Falling In Love With You
Demez White | 2/3/2015, 10:32 p.m. | Updated on 2/3/2015, 10:32 p.m.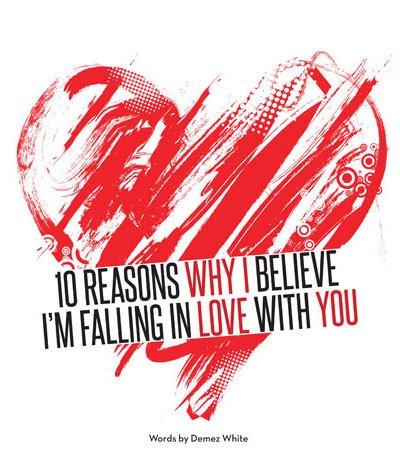 Every year around this time men and women seem to want to get a little closer, their eyes get a little glossier, their hands holder a little tighter. Love filters throughout the air leading up to the most beloved holiday, Valentine's Day. The time of year when you show that special someone just how much they mean to you.            
But not everyone is a full on relationship. While they are far from just recently meeting that they are not to the point where they are officially a couple. They are hanging around in the in between stage. Dating each other is becoming more frequent. They are learning something new about the other each time they connect. Slowly the masks are coming down to reveal their true selves and both parties are loving what they see. Then slowly "like" seems to make a smooth transition to "love." Signs of love are not always obvious while in the moment. If you are dunce on the subject below are 10 signs that show that you are falling head-over-heels for that someone special.
One - I check your Facebook every day. Not really to see who you're talking to or what guys are saying but just to look at pictures, to see your face. I like seeing your face, seeing your smile.
Two - When you call my entire personality changes. I smile more, I don't get out the truck, I blow off work for twenty minutes, and your voice makes me realize just how much nothing matters more than talking to your pretty self.
Three - I love your ambition, I find myself talking about you to strangers just because you're you.
Four - I could care less about having sex with you. Our conversations are enough. The way you stimulate my mind means more than any woman has ever done to me physically.
Five - When I write it's you I see.
Six - The things that make me ignore most women - complaining, whining, crying - all those things bring me closer to you. They make me want to spend more time with you.
Seven - I watch you sleep, not in a creepy way or Silence of the Lambs way but just in a way that brings me comfort. I wonder what you're dreaming about. I like pulling you close and having you sink your body into mines.
Eight - I have a feeling that when you're completely into me, it will change my life.
Nine - I love your simplistic beauty.
Ten – Loyalty - To your friends, to your family, to me. Even though we haven't known each other for long I love how you're willing to have my back. I love how you talk to me and see me in a way that makes me feel like you care. I know you care. I'm falling in love with you and I don't care who knows it.
For more stories by Demez, visit www.demezw.com.