Wall Street bets on Staples-Office Depot marriage
Willie Grace | 2/3/2015, 4:26 p.m. | Updated on 2/3/2015, 4:26 p.m.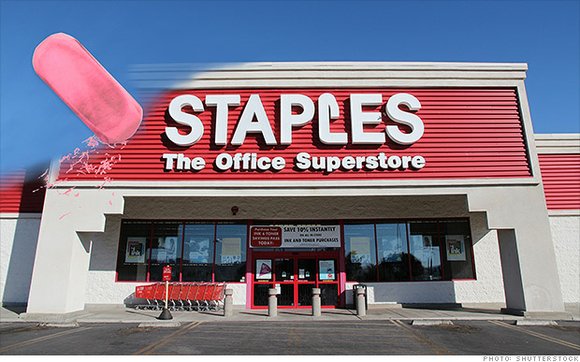 NEW YORK (CNNMoney) -- For weeks now, Wall Street has bet on a Staples-Office Depot marriage.
On Tuesday, investors believed that a union could be close.
Shares of both Staples and Office Depot soared after the Wall Street Journal reported that the office supply stores are in "advanced talks" to merge.
Office Depot stock rallied 18% and Staples rose 10%.
The companies have been under pressure to explore a merger from activist investor Starboard Value, which owns big stakes in both Staples and Office Depot.
Starboard has argued that an alliance would create a stronger company that can better take on online competitors like Amazon and discounters like Wal-Mart.
In a letter to Staples CEO Ron Sargent last month, Starboard suggested that it could enlist other shareholders to join its cause if the company didn't cooperate. Staples responded that it "carefully considers" all steps to boost value for shareholders.
Starboard did not immediately respond to a request for comment.
The office-supplies industry is hurting badly. People simply aren't buying office supplies at the pace they used to. Many young people don't have printers anymore, nor do they use as many pens or pencils.
Plus there's a lot of competition from online and discount stores.
Staples announced plans last year to close 225 stores in North America, or about 12% of the total, to trim costs in the face of weaker sales.
Analysts say a merger between would generate savings of at least $1 billion in "synergies." The combined company could save tons of cash by closing poor-performing stores and optimizing supply chains.
But it won't be easy -- such a marriage would face extra scrutiny from regulators.
After all, Office Depot recently acquired another rival OfficeMax, meaning all three brick-and-mortar stores would end up under one corporate roof.
Don't forget that in 1996, the FTC shot down a proposed merger between Office Depot and Staples on antitrust grounds. However, the landscape is a little changed since then and the same agency also approved the 2013 merger of Office Depot and OfficeMax.
Office Depot said it doesn't comment on "rumors or speculation." Staples did not immediately respond to a request for comment.
For more information go to http://www.cnn.com