Obama's defense secretary nominee faces Congress
Willie Grace | 2/4/2015, 6:08 p.m. | Updated on 2/4/2015, 6:08 p.m.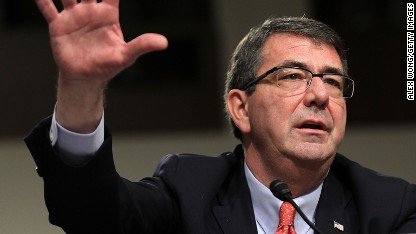 WASHINGTON (CNN) -- President Barack Obama's pick to become the next Defense secretary said Wednesday that he's likely to support a push to provide arms to Ukraine's military.
Ashton Carter told the Senate Armed Services Committee during his confirmation hearing that he's "very much inclined" to support giving "lethal" arms -- which could include anti-tank and anti-air systems -- to Ukraine to combat pro-Russian rebels.
"We need to support Ukraine in defending themselves," Carter said.
His comments come amid reports that the White House is considering shifting its approach to the crisis in Ukraine by providing more arms to the government there -- at the risk of escalating a conflict with Russia.
Carter fielded questions from the committee about a broad range of foreign policy challenges, with Republican chairman Sen. John McCain of Arizona, Sen. Lindsey Graham (R-S.C.) and others grilling him on ISIS, U.S. troop withdrawal plans in Afghanistan, the influence of Iran in the Middle East and more.
His confirmation -- much like one for Obama's pick for attorney general, Loretta Lynch -- hasn't focused much on Carter's qualifications. He's a former No. 2 official at the Pentagon, well-liked by members of both parties, holds a doctorate degree in physics and has shuffled between the Department of Defense and academia for much of his career.
Instead, senators have turned the hearing into a critique of Obama's policies.
McCain blasted delays in major programs and cost overruns, and said the United States needs to better define its approach to battling ISIS in Iraq and Syria.
"Let there be no doubt: We still do not have a viable strategy to counter ISIL, and if you are not winning in war, you are losing," McCain said.
Graham also laid into the Obama administration for failing to adequately challenge ISIS, which he called a major threat. "They hold a large territory, they're rich, they have a lot of crazy people under their control," Graham said.
He also laid into the sequester, which has axed hundreds of billions of dollars in defense spending -- which gave Carter some common ground with the Republican.
Graham asked Carter if he could explain "why in the hell would the Congress be devastating the military budget?"
Carter responded: "No, I can't," and added that he's "against the sequester."
Democratic Sens. Kirsten Gillibrand of New York and Claire McCaskill of Missouri prodded Carter about sexual assaults in the military -- including recent Pentagon reports that have indicated many of the victims who report those assaults face retaliation.
Carter didn't commit to any specific changes to Department of Defense policies, but said he appreciates "the heat" lawmakers have brought to the issue.
"This is a crime," Carter said. "And its prevalence suggests we're not doing everything that we can, that we need to do, to root out that crime."
Sen. Kelly Ayotte (R-N.H.) quizzed Carter about Obama's long-standing pledge to close the Guantanamo Bay military prison in Cuba, and extracted a pledge that Carter wouldn't speed up the timetable for transferring or releasing the detainees now held there.