Obama's defense secretary nominee faces Congress
Willie Grace | 2/4/2015, 6:08 p.m. | Updated on 2/4/2015, 6:08 p.m.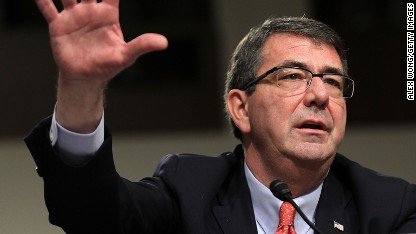 Carter, like Lynch, pledged to improve relations with Congress that had been strained while Chuck Hagel was Defense secretary and Eric Holder was attorney general.
"I pledge to make needed change in the Pentagon but also to seek support from Congress, because I know that in the end, Congress holds the power of the purse," Carter said. "I look forward to a partnership with this committee, and what can be a period of historic advance."
The hearing is scheduled to continue into Wednesday afternoon.
Carter, who served as deputy defense secretary until December 2013, will continue to face questions from the Senate panel on everything from the U.S. fight against ISIS to the planned military withdrawal from Afghanistan and the President's goal of shutting down the prison at Guantanamo Bay.
Carter is well-liked and well-respected by senators in both parties and is expected to be confirmed after spending weeks making the rounds on Capitol Hill for one-on-one meetings with senators.
McCain, the committee's chairman, has been one of the Obama administration's most vocal critics on foreign policy and military strategy. The hawkish senator has criticized the administration on everything from the fight against ISIS to the U.S.'s position in confronting Russian aggression in Ukraine to the administration's unwillingness to get involved in the fight against Syrian dictator Bashar el-Assad.
Carter's nomination comes after the Obama announced in November that Secretary of Defense Chuck Hagel would step down. While the White House characterized Hagel's resignation as his own decision, several sources told CNN then that Hagel was forced out.
Obama's two former defense secretaries, Leon Panetta and Robert Gates, were both critical of Obama in books and interviews after they left the administration. Some have suggested that Carter will have limited influence in the position as Obama already relies on a small circle of advisers to make his top foreign policy and military decisions.
In written answers to the Senate Armed Services Committee, Carter affirmed that he would advise Obama to stray from current plans if the situation warranted. Carter said he would consider recommending revisions to Obama's plan to withdraw military troops from Afghanistan if the situation warranted.
For more information go to http://www.cnn.com