Congresswoman Sheila Jackson Lee: A Torch Bearer for Justice
Style Magazine Newswire | 2/5/2015, 10:55 p.m. | Updated on 2/5/2015, 10:55 p.m.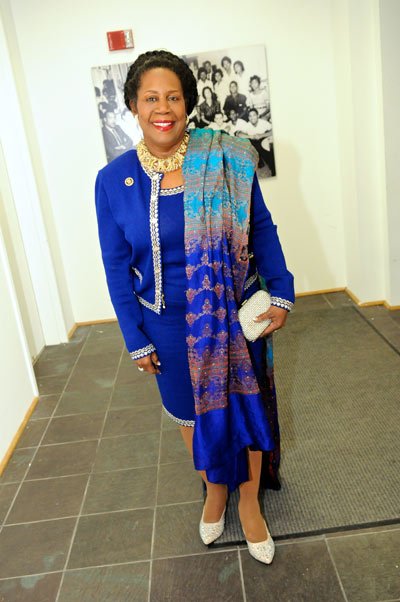 The year 1995 was a very good year for the 18th Congressional District. That was the year in which a woman by the name of Sheila Jackson Lee took the oath of office to fight for the needs and concerns of the constituents of the inner-Houston area. Congresswoman picked up the torch for justice and has been running with it for the past 20 years. A reception of appreciation and celebration as well as to wish her very Happy Birthday was held in her honor on Sunday, February 1, 2015 at the University Museum on the campus of Texas Southern University.
During her first year as a Congresswoman, Jackson Lee's colleagues instantly saw the shine of her leadership skills. She was elected as Democratic Freshman Class of the 104th Congress and was appointed as the freshman member of the House Democratic Steering and Policy Committee. From these steps in leadership roles came history-making moves. Congresswoman Lee was the first Black woman to serve as the ranking Democrat on the Subcommittee on Immigration and Claims. Twenty years later she is still tackling feats that have never been reached before. Just this year Congresswoman Lee became the first woman of either party to lead the prestigious House Judiciary subcommittee on crime, terrorism, homeland security and investigations.
She sits on various congressional committees and set forth numerous bills. Most recently she supported the reauthorization of the Voting Rights Act as well as the reauthorization of bill to ensure equal access for minority and economically disadvantaged students to NASA's education programs. She launched the Dr. Mae Jemison Grant Program to get more women of color interested in space and aeronautics. Congresswoman Jackson Lee is the founder, member, and co-chair of the Congressional Children's Caucus, the Pakistan Caucus, Afghan Caucus, and the Algerian Caucus.
Throughout her tenure, Congresswoman Lee has worked tirelessly to make effective change that has bettered not just the 18th district but also the world. Houston Style Magazine celebrates this distinguish woman of service and looks forward to the history she will make in the future. We know as long as there in breathe in her body and injustice happening that Congresswoman Lee will hold up her torch and press on.
Houston Style Magazine loves and salutes your 20 years of service Congresswoman Lee and we hope you had a wonderful birthday!