French Pianist Lise De La Salle Makes Houston Symphony Debut Under the Baton of Distinguished Austrian Conductor Hans Graf
Hans Graf, the Houston Symphony's longest-serving music director, returns to Jones Hall for a performance featuring French rising start Lise de la Salle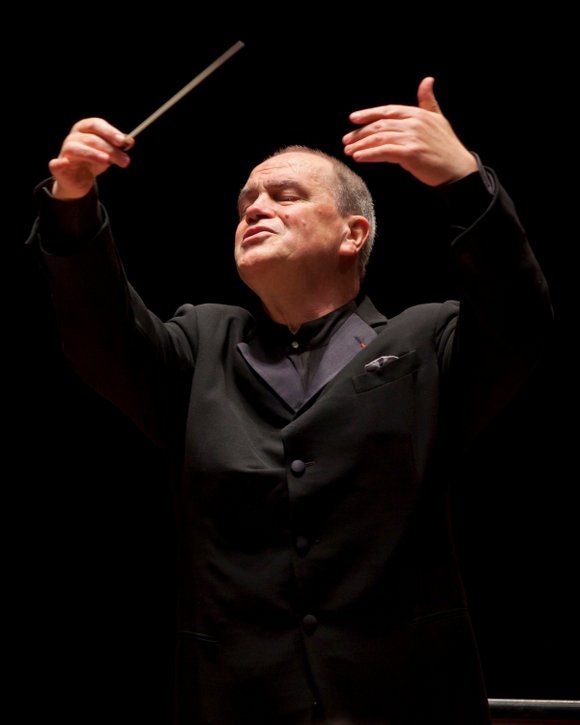 HOUSTON (February 5, 2015) – Conductor Laureate Hans Graf returns to Houston on February 20-22, 2015, to lead internationally-acclaimed pianist Lise de la Salle in Graf Conducts Schumann where she will perform Saint-Saëns Piano Concerto No. 2.
Inspired by the Rhineland and majestic Cologne Cathedral in Germany, Schumann's Symphony No. 3, Rhenish, marks Graf's return to Houston following his 12-year tenure as the Houston Symphony's music director. "Surely I've spent the greatest years of my musical life here in Houston," the conductor said in one of his final concerts.
Graf will be joined on stage by French pianist Lise de la Salle as she performs Saint-Säens' Piano Concerto No. 2. A rising star in classical music, The New York Times describes her as "eminently musical," offering depth as well as virtuosity. Lise de la Salle started playing the piano at the age of four and gave her first concert, broadcast live by Radio France, when she was nine. In just a few years, she has developed an impressive international career performing in major concert halls of Europe, the U.S. and Asia.
A free Prelude pre-concert discussion led by Houston Symphony principal trumpet Mark Hughes will be held 45 minutes prior to each concert at Jones Hall. Hughes will provide insight on what it takes to play Hindemith's Konzertmusik for Strings and Brass.
Graf Conducts Schumann
Friday, February 20, 2015, 8:00pm
Saturday, February 21, 2015, 8:00pm
Sunday, February 22, 2015, 2:30pm
Hans Graf, conductor and violin
Lise de la Salle, piano*
Hindemith: Konzertmusik for Strings and Brass
Saint-Saëns: Piano Concerto No. 2
Schumann: Symphony No. 3, Rhenish
Tickets from $25

Jones Hall
615 Louisiana St.
Houston, TX 77002
About Lise de la Salle
In just a few years, through her international concert appearances and her award-winning Naïve recordings, 26 year-old Lise de la Salle has established a reputation as one of today's most exciting young artists, and as a musician of uncommon sensibility and maturity. Her playing inspired a Washington Post critic to write, "For much of the concert, the audience had to remember to breathe...the exhilaration didn't let up for a second until her hands came off the keyboard."
A native of France, now living in Paris, Ms. de la Salle first came to international attention in 2005, at the age of 16, with a Bach/Liszt recording that was selected as "Recording of the Month" by Gramophone Magazine. Ms. de la Salle, who records exclusively with the label Naïve, was then similarly recognized in 2008 for her recording of Liszt's, Prokofiev's and Shostakovich's first concertos – a remarkable feat for someone only 20 years old. Her most recent recording offers works of Schumann, including Kinderszenen and the C Major Fantasy, which was released in 2014.
Lise de la Salle has played with many of the world's leading orchestras and conductors. She most recently made her London Symphony Orchestra debut with Fabio Luisi, who had invited her to become the first Artist-in-Residence of the Zurich Opera in 2014. Together, they will perform the entire piano and orchestra works of Rachmaninoff. She has also appeared frequently with the Maestro and the Vienna Symphony, including a performance in New York on the Great Performers Series at Lincoln Center. In this country, Ms. de la Salle has played with the Boston Symphony, Chicago Symphony at the Ravinia Festival, San Francisco Symphony and three times with the Los Angeles Philharmonic, among others. In her second appearance with the Minnesota Orchestra, she played the Gershwin Concerto in F, a performance that inspired one critic to exclaim that "she might just be the most exciting young artist in classical music right now."