Sen. Ellis and Rep. Bohac File Bills to Expand Texas' Sales Tax Holiday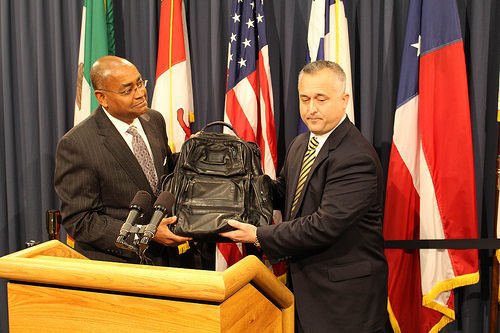 (Austin, TX) // Today, Senator Rodney Ellis (D-Houston) and Representative Dwayne Bohac (R-Houston) held a press conference to discuss SB 426 and HB 1087, companion bills to expand Texas' sales tax holiday.
"It's time to bring the sales tax holiday into the 21st century," said Senator Ellis. "Texas needs to increase the sales tax holiday amount and add the electronic devices that our students regularly use to succeed in the classroom. As long as tax cuts remain on the agenda this session, I intend to fight for tax cuts that will go straight to families' pockets. After all, the sales tax holiday means real tax relief for those who need it most."
"I am committed to making tax relief for hardworking families a priority this session," said Representative Bohac. "Preliminary budget proposals have afforded us the opportunity to offer meaningful tax relief for consumers, homeowners and business owners. Over the years, the back-to-school sales tax holidays have offered consumers significant spending relief, but we need to make it reflective of 'inflation creep' and modernize it to represent what students and consumers are buying in 2015. I am happy to have worked with Senator Ellis to get backpacks added to the list of tax exempt items, but now we have to work to help fill them with the electronics that the 21st century classroom requires."
The bipartisan bills will help Texas families save money on sales taxes in two ways. First, the bills increase the sales tax holiday's purchase limit amount for clothing, shoes, backpacks, and school supplies from $100 to $200. The $100 amount for clothing and shoes has not been changed since the holiday was originally created in 1999, and increasing the amount will allow families to continue to utilize the sales tax holiday for items that have substantially increased in cost over the past 16 years.
Second, the bills will add certain electronic devices to the list of items that are tax-free during the sales tax holiday. This includes e-readers, personal computers, and tablet computers. Today's students rely on much more than pens, paper, and calculators to get prepared for school.
Both members have a long history of working to provide tax relief for Texas families through the sales tax holiday. In 1999, Senator Ellis passed SB 441, which created the back-to-school sales tax holiday for shoes and footwear. In 2007, Senator Ellis amended HB 3314 to add backpacks to the list of items eligible for the sales tax holiday. In 2009, Representative Bohac passed HB 1801, which added school supplies.
For more information, visit www.rodneyellis.com/