Israel bolsters ties to Jordan as ISIS looms
Willie Grace | 2/6/2015, 12:49 p.m. | Updated on 2/6/2015, 12:50 p.m.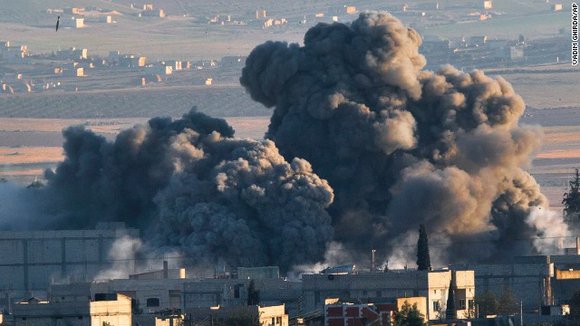 JERUSALEM (CNN) -- The crucial security relationship between Jordan and Israel is gaining new meaning after the brutal execution of a Jordanian pilot at the hands of ISIS.
In the aftermath of the killing, Prime Minister Benjamin Netanyahu moved quickly to publicly bolster Israel's alliance with Jordan. In a phone call on Thursday, just a day after King Abdullah II returned to Jordan following a shortened trip to Washington, Netanyahu extended his condolences to Abdullah and expressed his anger over ISIS's "barbaric cruelty," the prime minister's office said in a statement.
The Jordanian pilot, Lt. Moath al-Kasasbeh, was burned alive by ISIS militants in a video shared online around the world.
The tragedy is a prime opportunity for Netanyahu to shore up a relationship that has undergone some strain in recent months over restricted Palestinian access to the al-Aqsa Mosque in Jerusalem.
Jordan recalled its ambassador three months earlier over rising tensions in Jerusalem, but on Monday the ambassador was back in Tel Aviv, a sign that Jordan sees the importance of smoothing over its relationship with Israel.
Jordan has been a crucial partner in the U.S.-led coalition against ISIS, not only flying missions over Syria and bombing ISIS targets, but also lending its territory to the CIA's covert program to train moderate Syrian rebels.
And while Israel isn't a member of the anti-ISIS coalition and isn't actively combating the group, Israeli officials have said they consider ISIS a regional threat. That threat is only becoming more real as heavy fighting rages along the Israeli-held Golan Heights, where stray artillery fire has hit in recent months. The Israeli military has become increasingly focused on its border with Syria in recent months, concerned that the civil war could spillover as Hezbollah, which is fighting alongside the Syrian government, is gaining territory in Syria alongside the Israeli border.
As Israel looks to Syria with a more watchful eye, Jordan is becoming even more committed and determined to defeating ISIS. Jordan's resolve was only strengthened by the brutal murder of one of its pilots and public support for the fight has swelled in the aftermath.
Now, Jordan could be looking to expand its role and it could lean its close intelligence relationship with Israel for support.
Israel has already flown drone sorties over the Jordanian-Syrian border to help Jordan thwart potential attacks from ISIS. But that and other intelligence assistance could be the extent of Israeli support, said Israeli officials who promise to be "as supportive as we can be" of the Jordanians.
And the Washington Institute's David Schenker, the Pentagon's former top policy aide on the Levant, said it may be difficult for Israel to provide even more support to bolster an already stalwart relationship. Israel is certainly committed though, viewing the Jordanian monarchy as a bastion of stability, he added.
"The relationship between the Jordanian military establishment and Israel is deep. It is very deep," Schenker said. "I wonder whether there are any additional areas in which they could strengthen the relationship, keeping in mind that it cannot be overt [support]."