Wells Fargo Survey: Small Business Optimism Highest in Seven Years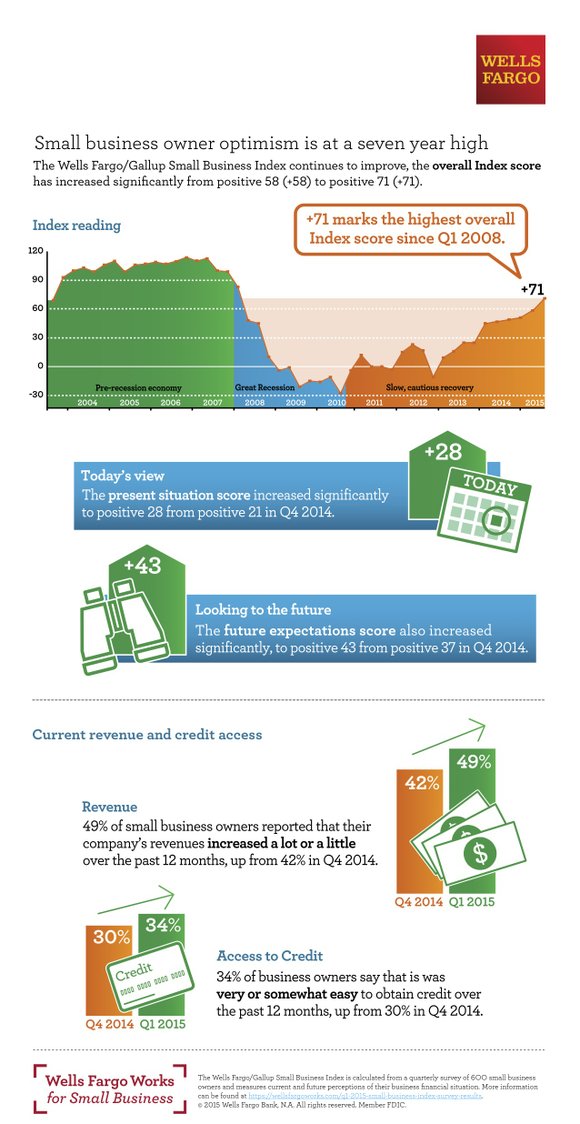 SAN FRANCISCO, Feb. 5, 2015 – Small business owners report they are the most optimistic in seven years, according to the latest Wells Fargo/Gallup Small Business Index, with stronger revenues, improved cash flow and increased hiring contributing to the improvement.
In the latest quarterly small business survey, conducted Jan. 5-9, the overall Index score, which measures small business owner optimism, jumped to positive 71 (+71), significantly up from +58 in November 2014 and up from +45 in January 2014. While the score is still below pre-recession levels, it is the highest it has been since January 2008 when the Index score was +83.
Several factors contributed to the rise in optimism this quarter, including:
• Improved revenue – In the January survey, 49 percent of small business owners reported that their revenues increased a little or a lot over the past 12 months, up from 37 percent a year ago. This represents the highest reading on this measure since 2007, when 52 percent of small business owners reported increased revenues.
• Better cash flow – Business owners' cash flow improved over the past 12 months, with 54 percent rating their company cash flow as very good or somewhat good, compared to 52 percent in the first quarter of 2014.
• Hiring is up – More business owners increased the number of jobs at their company over the past 12 months (19 percent). Just 11 percent reported a decrease in jobs, compared to 16 percent in last quarter's survey.
• Access to credit – The ability to obtain credit also improved with more than a third (34 percent) of survey respondents reporting that it was somewhat or very easy to obtain credit over the past 12 months, up from 30 percent in November 2014, and 28 percent a year ago.
"The overall Index score speaks to the general improvements that many small businesses experienced in 2014," said Lisa Stevens, Wells Fargo head of Small Business "With the economy improving every day, many business owners are seeing stronger revenues and are feeling a renewed sense of confidence and expecting an even better year ahead."
Current Conditions
Incremental increases in how small business owners feel about their current conditions and the future helped drive the rise in optimism this quarter. The present situation score – how business owners rate current conditions for their businesses – continues to climb, increasing to +28 in January, up from +21 last quarter and up from +16 a year ago.
The survey shows that business owner perceptions of their present situation continues to improve each year, having increased 30 points since January 2013, and 57 points from its lowest point (-29) in the first quarter 2010.
A Promising Year Ahead
In addition to reporting an improved present situation, business owners are feeling confident about the year ahead. The positive outlook is reflected in the future expectations score, which increased to +43 in January, up from +37 in November 2014 and +29 a year ago.
Key findings that contribute to the future expectations score include: