Gifts from Macy's Will Make Hearts Flutter This Valentine's Day
Find heartfelt gifts for your special someone at Macy's and macys.com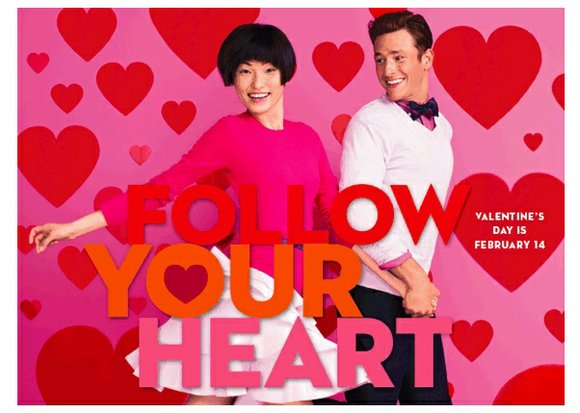 NEW YORK – February 10, 2015 – To celebrate the year's most loveable holiday, Macy's has the perfect assortment of gifts to show your affection. With an array of the hottest items from everyone's favorite brands and designers to dazzle loved ones, Macy's is sure to make this year the most memorable yet. Through Valentine's Day, shop at stores nationwide and online at macys.com for fashion faves, fine jewelry and sweet products for all.
"When it comes to shopping for this special day of the year, Macy's sets the bar for gifts that are personalized and unique," said Susan Bertelsen, Group Vice President of Macy's By Appointment. "Our varied selection of gifts makes it easy to find something for everyone on your sweetheart list. Our curated gift guide on macys.com can help take the guesswork out of finding the perfect gift to express your love this Valentine's Day."
Hearts will be happy and many will swoon over glorious gifts available at Macy's. Spark up the romance with a Le Vian pendant and earrings made with vanilla and chocolate diamonds. Accessorize her with a sweet pink Michael Michael Kors Sutton Satchel and bracelets in silvertone, rose goldtone and more. Keep him looking extra sharp and timeless with cufflinks and a stylish watch by Kenneth Cole. Capture your love and frame it for always with Kate Spade New York Crown Point picture frames. Philosophy Amazing Grace fragrance for her and Calvin Klein Reveal for him are gifts sure to be adored. And for the loved one with the sweet tooth, gift them with a Godiva chocolate-filled paper heart or a plush bear that comes with a satchel of sweet treats.

Spread the love even more this holiday with these hot items from Macy's:
Michael Kors Watches with Rose Goldtone and Blush Bracelets, $275-$295
Men's Wallets by Tommy Hilfiger and Fossil, $40-$48
Betsey Johnson Stretch Charm Bracelets, $35
Ideology Activewear Go Red Graphic Tee, $29.50
DKNY Intimates Seductive Lights Slip Chemise, $48
Waterford Giftology Heart Box, $75
Browse Macy's Valentine's Day gift guide online at macys.com/gifts, which features more sweet ideas for every loved one. For last-minute gifting, customers can buy online (before 3 p.m. local time on Feb. 14) and pick up at their local Macy's store. Available for in-stock merchandise. Visit macys.com for details.
About Macy's
Macy's, the largest retail brand of Macy's, Inc. (NYSE:M), delivers fashion and affordable luxury to customers at approximately 800 locations in 45 states, the District of Columbia, Puerto Rico and Guam, as well as to customers in the U.S. and more than 100 international destinations through its leading online store at macys.com. Via its stores, e-commerce site, mobile and social platforms, Macy's offers distinctive assortments including the most desired family of exclusive and fashion brands for him, her and home. Macy's is known for such epic events as Macy's 4th of July Fireworks® and the Macy's Thanksgiving Day Parade®, as well as spectacular fashion shows, culinary events, flower shows and celebrity appearances. Macy's flagship stores including Herald Square in New York City, Union Square in San Francisco, State Street in Chicago, Dadeland in Miami and South Coast Plaza in southern California are known internationally and leading destinations for visitors. Building on a more than 150-year tradition, and with the collective support of customers and employees, Macy's helps strengthen communities by supporting local and national charities giving more than $70 million each year to help make a difference in the lives of our customers. 

For more information, visit macys.com