The 13th Juror: Is this a trial or a remake of 'Groundhog Day'?
Willie Grace | 2/13/2015, 12:42 p.m. | Updated on 2/13/2015, 12:42 p.m.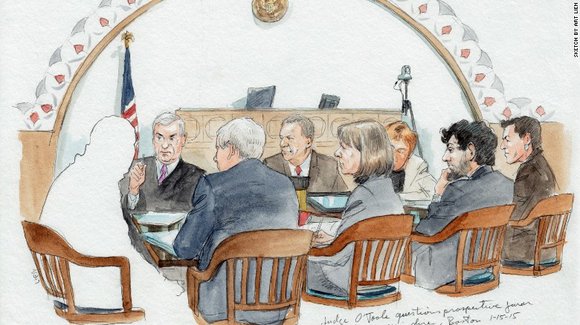 BOSTON (CNN) -- The trial of accused Boston Marathon bomber Dzhokhar Tsarnaev was supposed to have started three weeks ago. But now it's anybody's guess when this highly anticipated trial will begin.
We're buried in snow and juror questionnaires. So far, we've had 14 days of juror questioning and six snow days. It's like "Groundhog Day" meets "The Shining."
The walk to the courthouse, along streets where snow is piled higher than one's head, inspires a sense of kinship with rats searching for the cheese at the end of a maze. The blind quest becomes your everything.
U.S. District Court Judge George A. O'Toole wants the cheese.
Tsarnaev's defense, as well as the opinion makers at the local paper of record, The Boston Globe, believe there's no way O'Toole will be able find an unbiased jury to hear the case. People here have their minds made up about Tsarnaev's guilt, they take the marathon bombing personally, the publicity has been overwhelming, and nobody here can agree on the death penalty -- or so the arguments go.
But other factors are at play, too, including the length and likely gruesome nature of this trial, says Valerie Hans, a professor at Cornell University Law School and one of the nation's leading experts on juries.
The bombings and manhunt, she said, also seemed to touch nearly every one of the 5 million people who live in or near Boston -- or a classmate, a relative, a colleague, a friend or a friend of a friend.
O'Toole is determined to prove the naysayers wrong. He seems confident he will find 12 objective Bostonians able to judge Tsarnaev only by what they hear in court. The defense has asked him three times to move the trial from Boston, saying the bias against their client is so pervasive it's impossible to find an impartial jury in Boston.
So many of the jury prospects say the same thing: Yes, I think he's guilty. No, I'm not sure I can vote for death penalty.
Next week, the 1st U.S. Circuit Court of Appeals will consider a defense request to move the trial to another city. By then, the judge has indicated, he might be close to identifying a pool of 64 people he believes have what it takes to serve on Tsarnaev's jury.
The government opposes moving the trial, saying no matter where you hold it, people have heard of this case. It's a point made in a recent article in the Columbia Journalism Review: In the digital age, is it possible to find jurors who haven't had some media exposure in big cases of national interest?
It hasn't been easy here. Potential jurors were handed questionnaires on January 5 and started returning in groups on the 20th, each to take a solo turn in the hot seat. Because this is a high-profile death penalty case, the judge and lawyers wanted to go deeper with the prospects to ferret out any bias.