North Carolina Muslim shooting victim said she felt blessed to be an American
Willie Grace | 2/13/2015, 12:44 p.m. | Updated on 2/13/2015, 12:44 p.m.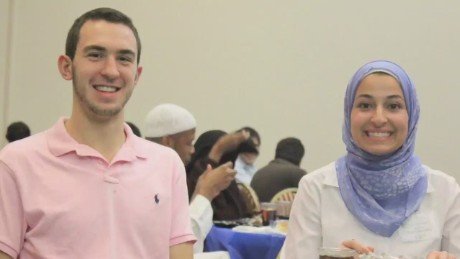 (CNN) -- With her hijab, Yusor Mohammed may have stood out.
But in every respect, she felt that she fit in -- as a proud, and blessed, American.
Even if most of her North Carolina neighbors didn't wear the same Muslim head covering that she did, Mohammed believed that there were "still so many ways that I feel ... embedded in the fabric that is our culture," meaning the American culture.
"That's the beautiful thing here, is it doesn't matter where you come from," she said last summer as part of NPR's StoryCorps project. "There are so many different people from so many different places, ... backgrounds and religions. But here we're all one.
"It's beautiful to see. People of different areas interacting and being family, one community."
Yusor Mohammed's light, her idealism was extinguished Tuesday with gunshots that killed not only her, but her 23-year-old husband, Deah Shaddy Barakat, and 19-year-old sister, Razan Abu-Salha.
Why? Authorities haven't announced any motive, but Mohammed's father thinks that he knows.
His daughters and son-in-law died, Mohammad Abu-Salha says, because they were Muslim. If so, that constitutes a hate crime.
Push for federal action
The FBI has opened a preliminary inquiry into the killings in the college town of Chapel Hill, according to a U.S. law enforcement official.
That will include looking into whether the deaths violated federal laws, though investigators say they so far haven't found any indications of a hate crime -- saying the evidence suggests the shootings stem from a parking dispute.
But 150 Islamic, Arab, Jewish, Sikh, Asian-American and other civil rights and faith groups want a closer look. In a letter Friday to Attorney General Eric Holder, they said there is enough circumstantial evidence to "warrant a federal hate crime investigation," a probe they say is important to the victims' families and Muslims across the United States.
"Federal leadership is necessary in this case in order to send the strongest message to the public that acts of violence like these have no place in civil society and will be prosecuted to the fullest extent of the law," the groups write. "... As American Muslims and those perceived to be Muslim now, more than ever, fear for their safety, the American people need to hear a strong message from our nation's chief law enforcement officer."
They aren't the only ones demanding action out of Washington. The story has also gotten traction internationally, Al-Azhar, an Egyptian center of Islamic scholarship, has called the killings a "terrorist cowardly act" rooted in "racism and Islamaphobia."
Turkish President Recep Tayyip Erdogan said Friday that he has called President Barack Obama, Vice President Joe Biden and Secretary of State John Kerry about it.
"President Obama, Mr. Kerry, (Vice President) Biden, at this point have not made any declaration of respect," Erdogan said. "This is telling. ... And if you stay silent when faced with an incident like this and don't make a statement, the world will stay silent towards you."