H-E-B Brings Chef-Inspired Dining to New Tanglewood Store
Table 57 offers causal dinning with seasonal fare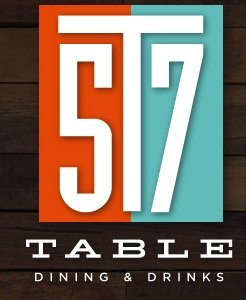 HOUSTON – For the first time in Houston, H-E-B is offering a sit-down restaurant with a menu inspired by Houston award-winning chef and restaurant-veteran Randy Evans at its new signature store on San Felipe at Fountainview scheduled to open Wednesday, February 18. Named for its zip code location, Table 57 will offer indoor and patio dining, a sophisticated, chic menu in a casual atmosphere using at-the-counter order placing for expediency with wait-staff service and delivery service.
"We are delighted to bring Table 57 to Houston as a neighborhood gathering hub for surrounding residents and a preferred dining destination for all of Houston," stated Scott McClelland, President, H-E-B Houston. "Our select menu will feature H-E-B's finest fare in classic and specialty offerings, ranging from salads, soups, and artisan sandwiches to daily-catch entrees."
Table 57 will offer a comprehensive daily menu that includes seven grilled beef, turkey, veggie, and tuna burgers; cold and hot sandwiches; gumbos and soup du jour; many salads and small-bite plates; lunch and dinner entrees; innovative side selections, from chipotle cheddar grits and cannellini pesto mash to Korean kimchi mashers; kid's meals and kid-portion sizes; beer, wine, coffee, tea, sodas and specialty drinks; and fresh-from-the-bakery desserts. Brunch will include standards, such as eggs benedict, traditional and Southern style, French toast and fruit, and a breakfast sandwich with sausage and bacon; as well as creative delights, notably Korean fried chicken and waffles, jarred eggs with potato puree, black truffle butter, and grilled bread, and cinnamon roll with bacon banana's foster.

Other features at Table 57 include the full range of barbecue meats, including beef brisket, beef and pork ribs, chicken and turkey, pulled pork, and sausages, all smoked on-site with Texas oak up to 13 hours, available by the plate or pound. To complement dine-in and catering orders are sides, including beans, slaw, creamed corn, potato salad, and mac n' cheese.
The majority of Table 57's offerings will be H-E-B standard, core items with additional in-store seasonal selections. A cooking school is attached for wine tastings and classes, and takeout is readily available.
H-E-B chef Allen Duhon will serve as Executive Chef for Table 57 and Don Lee as General Manager. Table 57 will be open seven days a week for dining and drinks from 11:00 a.m. to 10:00 p.m. Monday thru Thursday; 11: 00 a.m. to 11:00 p.m. Friday and Saturday; and 9:00 a.m. to 10:00 p.m. Sunday, with brunch service until 2:00 p.m. Table 57 is located at 5895 San Felipe.
About H-E-B
With sales of more than $20 billion, H-E-B operates more than 350 stores in Texas and Mexico. Known for its innovation and community service, H-E-B celebrates its 110 anniversary throughout 2015. Recognized for its fresh food, quality products, convenient services, and a commitment to environmental responsibility and sustainability, H-E-B strives to provide the best customer experience at everyday low prices. Based in San Antonio, H-E-B employs more than 80,000 Partners and serves millions of customers in more than 150 communities. For more information, visit www.heb.com