H-E-B to Open Finest Store in Houston on San Felipe at Fountainview
New format offers a destination market, restaurant, and family entertainment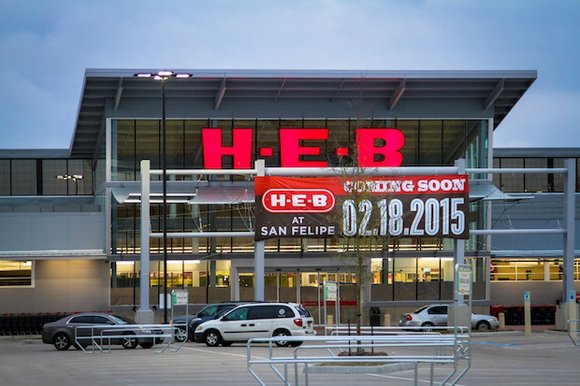 HOUSTON – When the doors open on Wednesday, February 18, H-E-B San Felipe will set a new standard for ensuring shoppers that Here Everything's Better. H-E-B's new 91,000-square-foot-store will offer Houstonians the highest quality one-stop-shop for everyday grocery shopping, a destination market for gourmet selections and entertaining, an in-store restaurant, Table 57, with indoor and outdoor dining, a live music stage, and a kid's play area. One of the largest vertical gardens in the metropolitan Houston area, conceptualized by H-E-B architectural design team and installed by Houston-based landscape architects, McDugald-Steele adorns the store's facade. This 250 foot linear living wall comprised of 22,000 indigenous plants covers the store's 14-foot tall western-facing wall, providing a sustainable green element to the store's industrial warehouse-style architecture.
Offering More Than Ever Before
H-E-B San Felipe will showcase new and unique offerings, such as an expanded selection of authentic Asian fare, including miso salmon, teriyaki chicken, and Korean-dish favorites, bibimbap and bulgogi; a made-from-scratch Bakery and Tortilleria, offering a plethora of fresh-daily organic and artisan breads, flour and mixla tortillas, popular desserts, custom-order cakes, and pastries by the piece or pound; an adjacent chocolate shop; and the largest bulk-food offerings in the H-E-B family. A special focus will showcase the healthy and ever-popular Mediterranean diet, featuring a hummus bar and H-E-B's broadest yogurt selection to date.
"H-E-B San Felipe's unique shopping and family friendly environment will elevate the grocery-store experience in all aspects, from planning the weekly menu to entertaining in grand style to meeting friends for a casual dinner and a glass of wine or picking up dinner 'to go'," stated Scott McClelland, President, H-E-B Houston. "Our new store intends to be a preferred destination market for all Houstonians and a gathering place reminiscent of the community it serves."


Other special features planned especially for H-E-B San Felipe, include:
• Houston's largest selection of H-E-B Organics throughout the store
• Expansive selection of gluten-free offerings
• An impressive selection of wines (1600!) and craft beers to complement the Wine Cellar and pneumatic tasting station for perfect pairings
• Full-service Seafood department with fresh fish and seafood flown in daily
• Fresh sushi handmade in-store daily
• Full-service Meat Market, offering USDA Prime, Natural, and Organic meats, 21-day dry age beef or the option for custom age, as well as many fully cooked selections
• Cold press juices and handmade guacamole
• Largest selection of Texas-made products, from jams and spreads to chips and sauces
• Specialized Spice Blending station
• Fully stocked Healthy Living department with fresh-ground nut butters, local honeys, select vitamins, natural and organic beauty products
• H-E-B's largest selection of bulk foods
• H-E-B Blooms, available to adorn any size gathering from intimate dinners to weddings, or simply for those just-because moments – with delivery options
• Unique selection of top-of-the-line Dog Treats
• A full-service pharmacy with walk up, drive thru and delivery services
Donna Theriot, a 24-year grocery industry veteran counting nine years with H-E-B, will serve as General Manager of the new store located at located at 5895 San Felipe.
"I believe that the customers will find products and services that will exceed their shopping expectations with countless first-time products, select entertainment venues, and our largest selections in the city demonstrates the exalted commitment to excellence we have in our new innovative store," said Theriot. "H-E-B San Felipe will revolutionize the grocery shopping experience."
About H-E-B
With sales of more than $20 billion, H-E-B operates more than 350 stores in Texas and Mexico. Known for its innovation and community service, H-E-B celebrates its 110 anniversary throughout 2015. Recognized for its fresh food, quality products, convenient services, and a commitment to environmental responsibility and sustainability, H-E-B strives to provide the best customer experience at everyday low prices. Based in San Antonio, H-E-B employs more than 80,000 Partners and serves millions of customers in more than 150 communities. For more information, visit www.heb.com