Houston Native Serves Aboard USS Fitzgerald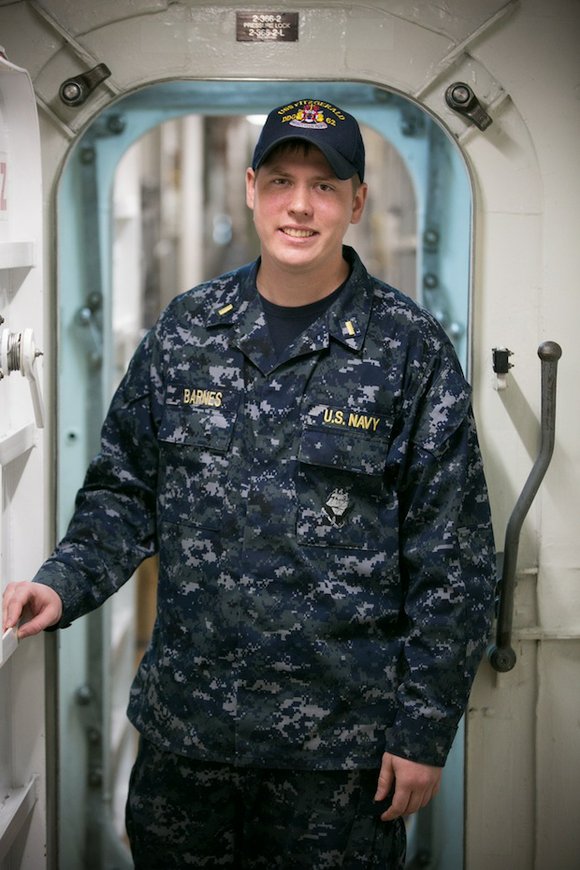 By Navy Office of Community Outreach Public Affairs
YOKOSUKA, Japan – A 2009 Clearlake High School graduate and Houston native is serving aboard the U.S. Navy destroyer USS Fitzgerald (DDG 62), living and working at the Navy's forward-deployed base south of Tokyo.
Ensign Patrick Barnes is the administrative officer aboard the destroyer operating out of Yokosuka, which is located approximately 35 miles south of Tokyo and accommodates the United States' furthest forward-deployed naval forces.
An Arleigh Burke-class guided-missile destroyer, Fitzgerald is 505 feet long or more than 1 1/2 football fields. The ship is 66 feet wide, weighs more than 9,200 tons, and its four gas turbine engines can push the ship through the ocean at nearly 35 miles per hour. The ship is named in honor of Lt. William Charles Fitzgerald, who was posthumously awarded the Navy Cross for extraordinary heroism on August 7, 1967 in Vietnam.
As a Sailor with numerous responsibilities, Barnes said he is proud to serve his country aboard a destroyer in Japan. He added that it is an exciting time to be in the military, and serving in the world's greatest.
"I supervise the Fitzgerald's administrative office," said Barnes. "I make sure that people get paid on time and get to their medical appointments."
Barnes also said he is proud of the work he is doing as part of the Fitzgerald's 300-member crew, living thousands of miles from home, and protecting America on the world's oceans.
"I like working with the Sailors to accomplish the mission," said Barnes. "They are a really good crew who are intelligent hard workers."
"Fitzgerald sailors represent every state in the union as well as a diversity of ethnicities. It is an honor to lead and serve with the finest sailors the nation has to offer," said Cmdr. Chris England, the ship's Commanding Officer. "These sailors should be justifiably proud of their accomplishments – a direct reflection of their dedication to mission accomplishment, motivation, and commitment to the Navy."
Approximately 40 officers and 260 enlisted men make up the ship's company. Their jobs are highly specialized and keep each part of the 2 billion dollar destroyer running smoothly — this includes everything from washing dishes and preparing meals to maintaining engines and handling weaponry.
Fast, maneuverable, and technically advanced, destroyers provide the required warfighting expertise and operational flexibility to execute any tasking overseas. With multi-mission capabilities in surface warfare, anti-submarine warfare, anti-air warfare, ballistic missile defense, and humanitarian assistance, Arleigh Burke destroyers excel as the Navy's premier fighting warship.
Assigned to U.S. Seventh Fleet, Fitzgerald sailors are continuously on watch throughout the Indo-Asia-Pacific region, acting as America's first responders in that part of the world.
As a member of one of the U.S. Navy's most versatile combat ships, Barnes and other Fitzgerald sailors understand they are part of a forward-deployed team that is heavily relied upon to help protect and defend America across the world's oceans.
"I enjoy being able to work in a forward operating environment, being able to visit so many foreign places and supporting community relations in other countries," said Barnes.
For more information, visit www.navy.mil/navco/display.asp‎