The Entire New Ghostbusters Cast Hung Out Last Night, See The Picture
Willie Grace | 2/17/2015, 4:23 p.m. | Updated on 2/17/2015, 4:23 p.m.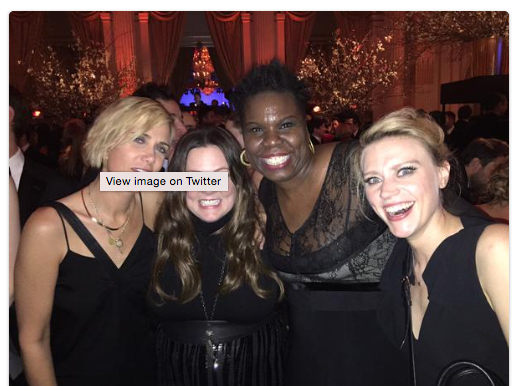 For Sunday night's SNL 40th anniversary special, some of the best moments happened off camera. Celebrities worked the red carpet outside 30 Rock, Kanye West interrupted NBC's pre-show coverage seconds before the special began, and Jim Carrey asked Matt Lauer where he was hiding Brian Williams. But certainly one of the greatest moments is captured in the photo above. which is our first group photo of the four ladies who'll be leading the new Ghostbusters movie into cinematic history.
As seen here, Kristen Wiig, Melissa McCarthy, Leslie Jones and Kate McKinnon came together for one awesome photograph last night, which originally came from Jones' Twitter account. And in case you can't read Spanish, the tweet reads: "PUMP. The new Ghostbusters (Kristen Wiig, Melissa McCarthy, Leslie Jones, Kate McKinnon) together for the first time." The only bummer about this image is that Ghostbusters reboot director Paul Feig was also apparently in attendance at the Saturday Night Live celebration, but it seems he wasn't around at the time that this picture was taken.
Just by looking at the image, it looks as though it was shot during the afterparty for the show, but all four ladies appeared in some capacity throughout the 40th anniversary special. Kristen Wiig appeared a few times in "The Californians" and opposite Fred Armisen in a "Garth and Kat" bit; Melissa McCarthy came out during Steve Martin's opening monologue and crashed "Weekend Update" dressed up as Matt Foley (which was made famous by the late Chris Farley); Leslie Jones introduced the montage of hilarious SNL auditions by past and present cast members; and McKinnon donned her now famous Justin Bieber persona for "Celebrity Jeopardy."
We'll see these four together again real soon, as Feig has plans to start production on the all-female Ghostbusters in New York City this summer. But while many are excited to see these four talented ladies team up for what promises to be one of 2016's biggest comedy blockbusters, not everyone has been completely on board. Fans of the original on social media have been bashing the four new leads, and while they've tended to include disclaimers on how they're totally not being sexist in complaining about the all-female cast, they have also added that they expect the project to "ruin their childhoods." Paul Feig seemingly hasn't been deterred by any of these complaints, however, even going as far to Tweet on December 31st, "Happy New Year to everybody, even the Ghostbusters reboot haters. I love you all. I promise I will try not to ruin your childhoods."
The original Ghostbusters cast members have also given their two cents on the matter, and the response has been mostly positive. Dan Aykroyd says he's "delighted" over the film's new direction, and Bill Murray was already dream casting which actresses he wanted in the roles before they were announced.
At the start, it seemed as though Ernie Hudson would be the only original cast member to be against the reboot, originally saying that he thought casting an all-female Ghostbusters would be a bad idea, but he changed his tone quite a bit in recent weeks, calling the new stars "four fiercely funny, foxy, females." Even Sigourney Weaver is apparently on-board with the reboot, telling Fox News that she thinks, "The women in it are fabulous." .
The Ghostbusters reboot is currently scheduled to hit theaters on July 22, 2016. As these ladies get pumped to go bust some ghosts when production begins, we'll hear more about the rest of the cast. Until then, we have this cast photo to keep us smiling.
For more information go to http://www.cinemablend.com