Children's Fine Arts Series announces its International Puppet Festival
Puppet Festival First of its Kind in Texas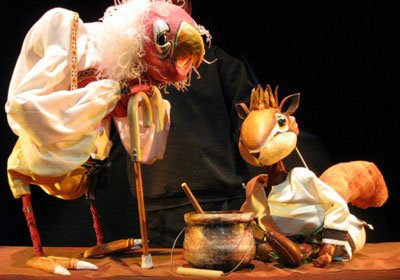 For the past 31 years, the Children's Fine Arts Series—under the direction of its creator and sole director Kathleen Miller—has brought premier performing arts programs by acclaimed national and international touring companies to the young children of San Antonio and south Texas. The Children's Fine Arts Series (CFAS) is the only presenter of performing arts in San Antonio exclusively for young children ages three to 10; performances are one hour long, to accommodate the attention span of the young child.

It has long been a dream to Miller to expand her series to include an international puppet festival for children. Now, because of a generous bequeath from the estate of a supporter, Miller's dream becomes a reality in May when she will present the Children's International Puppet Festival—the first of its kind in Texas. The only time these international shows will appear in Texas is at this Puppet Festival.
As with her Children's Fine Arts Series, the festival will be sophisticated presentations geared to children age three to 10. There will be 59 performances by seven different performance companies; multiple shows will be available each day. Performances are 45 minutes to one hour long. All shows will occur at the Tobin Center for the Performing Arts.
"Puppetry is a popular and ancient genre of performing arts," says Miller. "It is an art form dating back to the Medieval Ages, yet it is as captivating today. There is something magical about a miniature inanimate 'character' that comes to life, speaks, sings and dances. The professional touring companies we are bringing to the Puppet Festival are some of the best and most skilled in the world."
As in past years since 1989, the Children's Fine Arts Series and the Puppet Festival will invite children and teachers from inner city schools, Title I schools and children/family agencies to attend the weekday performances with free admission. More than 200,000 have attended performances in the past, made possible by the generous contributions of corporations, foundations, businesses, professionals and individuals, as well as many volunteers. Performances on weekday mornings are for elementary schools, home schools and child care centers; public shows are on weekends and 6:30 p.m. performances during the week.

TICKETS: Ticket packages for the Puppet Festival include six tickets for $42; four tickets for $32; and individual tickets are $10 each. The public can purchase tickets for the weekday evening and weekend daytime/evening shows at https://tobi.tobincenter.org/childrensfinearts/Online/default.asp. Tickets for weekday shows are available at www.childrensfineartseries.orgh.
Children's International Puppet Festival
WHEN ANIMALS WERE PEOPLE and THE LAZY BEE
May 6 and 7, 2015 at 9:45 a.m., 11:45 a.m., 6:30 p.m.
by Tears of Joy Theatre, Portland, OR
Tobin Center, West Rotunda
Suggested age: all ages
Limited seating: 100
Running time: 55 minutes
Tears of Joy Theatre performs an innovative show for both children and adults, bringing to life folktales from Mexico and Argentina. They are inspired by a tale from the Huichol Indians of Mexico, descendants of the Aztecs, and a story by Horacio Quiroga of Argentina. The script spun from tales of friendship, dedication and family is spare, sweet, with clever touches of adult-level wordplay. The puppets through whimsical vocal characterizations and deft maneuvering, elicit delight and sorrow. The performance incorporates simple Spanish words and phrases, giving the children a brief cultural immersion.