Emmett Awed by Astrodome and County Diversity
Burt Levine | 2/19/2015, 10:04 a.m. | Updated on 2/19/2015, 10:04 a.m.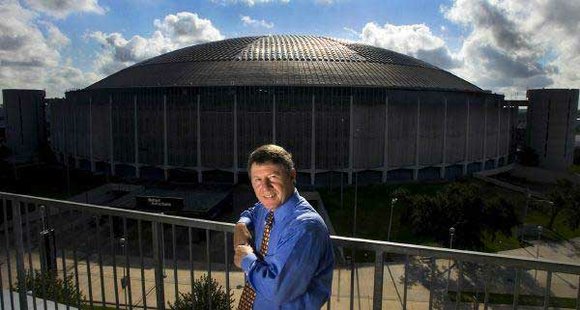 Harris County Judge Ed Emmett couldn't hide his excitement about the third largest county in the country with more than 1,000 business and civic leaders at his 8th State of the County Address held Friday, February 13th at the NRG Arena. His excitement focuses on the future of the Astrodome and the challenges and awesome opportunities he sees ahead for his increasingly diverse and urban county.
Judge Emmett shared his excitement with attendees at the annual Greater Houston Partnership affair by breaking away from the traditional settings of hotel and convention ballrooms to that of the NRG Arena to showcase the historic Astrodome area. Further surprising attendees, Judge Emmett lead them on a walk across the aging Astrodome floor for all to stand in awe with him.
"Let your imagination just soar a little bit as to what could become of this," Emmett said. The crowd looked with nostalgia and snapped pictures with phone that weren't even imagined when most last entered the storied wonder of the world that was and is the world's first domed sports stadium.
The Astrodome looks nothing reminiscent of its pasts. Most of the seats that were filled by bodies enjoying the many world famous concerts, football and baseball games, rodeos and political conventions have been ripped out and the rainbow view of colors that once dominated the dome have given way to a concrete gray. The bright green Astroturf that once lined the dome floor is gone, too.
"I used to bemoan the fact that I had to deal with the Astrodome," Emmett said in his address. "But no more."
Emmett admitted that in the fall of 2013 he was too distracted by other issues that kept him from campaigning for the initiative voters rejected to convert the dome into a vaguely defined multi-use convention center and event venue but now Emmett enthusiastically is championing converting it into the world's largest indoor park.
His earlier idea pitch was just a concept without specific plans or a price tag but now he's met with planners with the Urban Land Institute that have given him a report to essentially raise the dome's sunken floor to create two stories of underground parking.
"With this you could provide some parking underneath, that provides some revenue and other uses," Emmett said. "And then, you have the green space at ground level to have about nine acres. Livestock show and rodeo, for example, could move its kiddie rides and other food service in here," he said. He also suggested the county would assume responsibility for the green space, leaving the rest of the park open to other attractions like museums and recreational sports venues.
A national biking group has already expressed interest with Judge Emmett in turning part of the dome into an indoor mountain bike facility. He admitted the biggest unanswered questions are how much the conversion would cost and who would pay for it. Answers to those questions may come from a detailed ULI report expected any day now.
"More people live outside Houston in Harris County than Houston. The area from Beltway 8 to the county-line is more diverse and urban. Areas from Cypress in the northwest and Sagemont in the southeast are not in any city, are aging and are now majority minority areas that Harris County is responsible for providing municipal services to we're not set up to provide," he said about the county that in 10 years has gone from 60 percent to 30 percent white.
Share this story online at www.stylemagazine.com.