The New James Bond Movie Will Include This Bad-Ass Car Chase
Willie Grace | 2/19/2015, 7:08 p.m. | Updated on 2/19/2015, 7:09 p.m.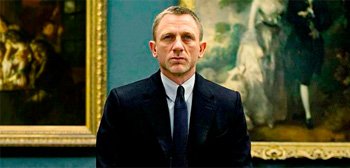 Further details regarding Spectre, the latest addition to the James Bond franchise, have been released, including revelations regarding one of the film's car chases. And it sounds like a real doozy.
Now that filming has begun on Spectre, the 24th installment to 007's rather esteemed cinematic cannon, its cast and crew have been shimmying across the globe shooting scenes. Production will arrive in the delightful Italian capital, Rome, in March, and according to the Italian site Bad Taste, the film is going to be causing quite a disturbance while it's there.
The aforementioned publication has reported that while in Rome, Spectre will be filming a car chase. Because of this, they will need to shut down the Italian city's streets from 9pm to 6am on the night of March 8th. So instantly we are able to decipher that this Italian car chase scene will be set at night(See, I'm not just a pretty face!)
But that's not all, because even more news regarding this chase has been teased. Either as part of this scene or another automobile pursuit, filming will take place on the Lungotevre, and it will reportedly conclude with James Bond's car ending up at the bottom of the river. But what about our dear old friend James Bond, I can hear you wail? Will he survive such a nautical brush with death? Simply put: yes. Bond will reportedly be rescued by a helicopter, which will swoop in just at the right time to save his life, dry him off and provide the spy with a fresh martini.
Spectre's cast and crew will also film several sequences for the chase in Barberini, Quatrro Fontane Nazionale, Borgo Pio, the Milvian Bridge, and all the streets and alleys that surround Piazza Navona. I'm personally hoping that director Sam Mendes will enter Rome with a mind to recreate this legendary scene from the Federico Fellini's 1960 classic, La Dolce Vita
I'm counting on the filmmaker to deliver. Meanwhile, the official 007 Twitter account also Tweeted out an image of both Daniel Craig and Monica Bellucci loving life in Rome. So it's safe to say that the pair are probably going to be heavily involved in Spectre's upcoming filming in the city.
For more information go to http://www.cinemablend.com