Washington on the Brazos State Historic Site – March through July 2015
Site's attractions and parkland open year-round with special activities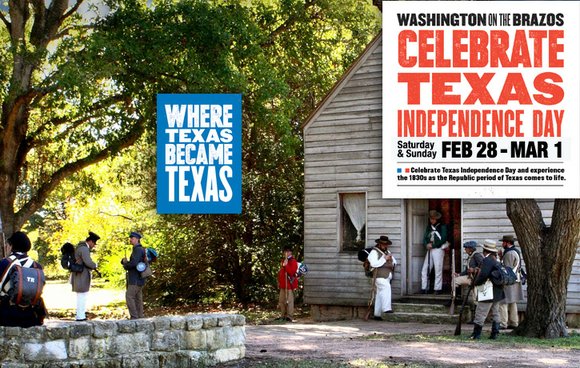 Located on 293 acres of lush park land, the picturesque Washington on the Brazos State Historic Site gives visitors unique insights into the lives and times of the 59 delegates who met on that very spot on March 2, 1836 to make a formal declaration of independence from Mexico. From 1836 to 1846, the Republic of Texas proudly but precariously existed as a separate and unique nation. Washington on the Brazos is, indeed, "Where Texas Became Texas."
Washington on the Brazos State Historic Site has many onsite amenities open daily, as well as an incredible schedule of events and programs. On the grounds of this TPWD-run state park is the Star of the Republic Museum (collections honoring the history, cultures, diversity and values of early Texans; administered by Blinn College); Independence Hall (the site in 1836 where the representatives met to write the declaration of independence); and Barrington Living History Farm (where interpreters dress, talk, work and farm as the earliest residents of the original farmstead did). The site's Visitor Center features interactive exhibits which present a timeline of the Texas Revolution and highlight the historic attractions located within the park; it also houses the spacious Washington Emporium Gift Shop, which offers snacks and a wide range of Texas-themed items and keepsakes. The Fanthorp Inn State Historic Site is a wonderfully preserved example of a 19th century stagecoach inn, located nearby in Anderson, TX. And remember, entrance to the park grounds, Visitor Center and parking is always free.
With blooming flowers, a variety of butterflies and songbirds, Washington on the Brazos has much to offer the nature lover, artist, photographer and anyone looking for beauty and peace. One of the highlights that visitors to Washington on the Brazos enjoy is the bountiful wildflowers in the spring. Bluebonnets, gaillardia, coneflower and pink evening primrose cover sections of the park, creating spectacular opportunities for budding photographers. The bluebonnets alone are a favorite of many, and typically are in bloom from March through April. Being somewhat ephemeral, the location and timing of large masses of flowers is hard to predict, but a joy when discovered. Areas around the Visitor Center and down the walking trail to the Wildflower Loop often offer visitors a view of the sweet scented state flower as well as an array of other Texas flowering beauties. Spend a day taking in the glory of nature and the intrigue of history when you visit this Texas shrine.
Star of the Republic Museum is celebrating Black history in Texas with its yearlong exhibit capturing the spirit of 19th-century black Texans and the challenges they faced before, during and after the Civil War. "Enduring Spirit: African Americans in 19th Century Texas" is on exhibit Feb. 1, 2015 through Feb. 15, 2016. While the first African Americans in Texas were free men and women seeking opportunity and advancement, the laws of the newly-formed Republic of Texas forced them out and opened the door to thousands of enslaved people who served as the backbone of the labor force for almost 30 years. Finally gaining their freedom after the Civil War, they discovered their struggle was far from over. Artifacts on display include slave records, freedmen contracts and an oath of allegiance. Stoneware pottery made at Wilson Pottery near Seguin, the first African American business in Texas, will be exhibited, as well as an example of the intricate Pine Burr pattern quilt.