Pantry Essentials for Nutritious Homemade Meals
Willie Grace | 2/20/2015, 3:26 p.m. | Updated on 2/20/2015, 3:26 p.m.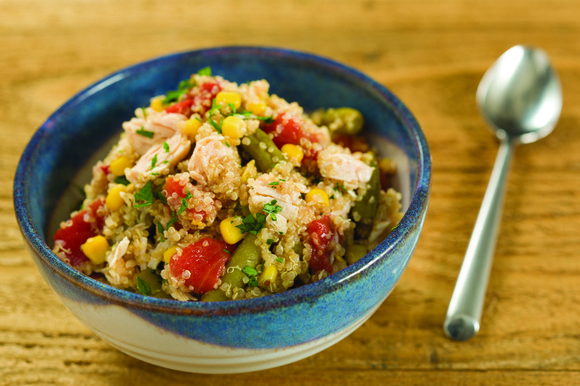 (Family Features) Every parent has been there. It's Thursday afternoon and the kids are asking, "What's for dinner?" Searching for inspiration, you head to the refrigerator, only to realize that the groceries you bought on Sunday have run out or spoiled. But before the panic sets in and you reach for the takeout menus, remember that the solution for a wholesome, homemade meal is right in your pantry - or "Cantry."
"With a well-stocked pantry full of canned ingredients, I know I always have the makings of a nutritious and flavorful meal," said Kelsey Nixon, host of "Kelsey's Essentials" on Cooking Channel and Food Network. "Fruits and vegetables are harvested at their peak of ripeness and canned in just hours, making the can one of the best ways to get food from its source to my family's table. I just open up a can, unlock that flavor and goodness and make it a 'Cantry' Thursday night!"
With canned food staples like canned beans, chicken, green beans and broth on hand, you'll be well on your way to savory meals like Quinoa Chicken Vegetable Salad and Nixon's Pasta e Fagioli Soup.
For more information about the canning process, delicious recipes and to learn how you can get cooking with canned foods, visit CansGetYouCooking.com.
Mediterranean Chicken Pitas
Prep time: 10 minutes
Servings: 2
1 (10-ounce) can chicken breast, drained and flaked
1/2 cup finely chopped cucumber
1/2 cup finely chopped red bell pepper
1 (4.5-ounce) can chopped green chilies, drained
1/4 cup Greek yogurt
2 tablespoons fresh chopped dill
2 whole wheat pitas
4 lettuce leaves
In large bowl combine chicken, cucumber, red bell pepper, green chilies, yogurt and dill; toss to mix well.
Cut each pita in half horizontally; carefully open each pita half. Fill each with 2 lettuce leaves and half of chicken mixture.
Pasta e Fagioli Soup
Recipe created by Kelsey Nixon
Prep time: 5 minutes
Cook time: 25 minutes
Servings: 4
2 tablespoons extra-virgin olive oil
4 ounces chopped pancetta (about 1/2 cup)
1 medium yellow onion, finely chopped
3 cloves garlic, minced
2 teaspoons fresh thyme leaves
1/2 teaspoon kosher salt
1/2 teaspoon cracked black pepper
2 (15-ounce) cans cannellini beans, drained and rinsed
1 (14.5-ounce) can diced fire-roasted tomatoes
3 (14.5-ounce) cans chicken broth
1 1/2 cups ditalini pasta (short tubular pasta)
1/4 cup grated Parmesan cheese, for garnish
In large heavy-bottomed pot, heat olive oil over medium-high heat. Brown pancetta bits just until they start to crisp before adding onion, garlic and thyme. Season with salt and pepper, and saute until fragrant and golden brown.
Add canned beans, tomatoes and chicken broth. Bring soup to rapid boil before adding pasta. Reduce to simmer and cook soup covered, stirring occasionally for 8-10 minutes or until pasta is cooked al dente.
Season with salt and pepper to taste before serving. Garnish with Parmesan cheese and serve with crusty bread.
Note: You can substitute bacon for pancetta, if desired.