Texas School Discipline Practices Target African-American Students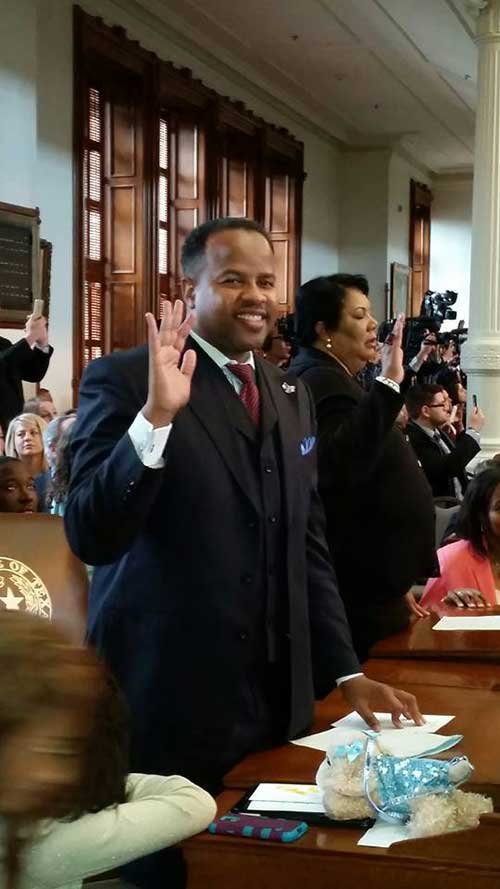 IT HAS BEEN MORE THAN HALF A CENTURY SINCE DR. KING STOOD ON THE STEPS OF THE LINCOLN MEMORIAL AND TOLD THE WORLD THAT HE HAD A DREAM; A DREAM THAT "CHILDREN WILL ONE DAY LIVE IN A NATION WHERE THEY WILL NOT BE JUDGED BY THE COLOR OF THEIR SKIN, BUT BY THE CONTENT OF THEIR CHARACTER."
WHILE SOCIETY HAS MADE DEFINITE PROGRESS IN TURNING DR. KING'S DREAM INTO A REALITY, INJUSTICES AGAINST CHILDREN STILL EXIST IN OUR CITIES AND COMMUNITIES. IN K-12 SCHOOLS—PLACES WHERE THEY SHOULD BE SAFE—AFRICAN-AMERICAN YOUTH ARE SUBJECTED TO BIASED SCHOOL DISCIPLINE PRACTICES THAT ARE HARMING THEIR PROSPECTS OF SUCCESS.
A RECENT NEWS HEADLINE SPEAKS TO THE FACT THAT THIS IS HAPPENING IN OUR OWN BACKYARD: DISCIPLINING OF BLACK STUDENTS AT ISSUE IN FORT BEND ISD. THE ARTICLE HIGHLIGHTS THE STARTLING RACIAL DISPARITIES THAT EXIST IN THE SCHOOL DISCIPLINE PRACTICES OF FORT BEND INDEPENDENT SCHOOL DISTRICT, ONE OF THE MOST DIVERSE SCHOOL DISTRICTS IN AMERICA.
THOUGH AFRICAN-AMERICAN YOUTH MAKE UP ONLY 29 PERCENT THE FORT BEND ISD STUDENT BODY, THEY ACCOUNT FOR APPROXIMATELY 60 PERCENT OF IN-SCHOOL SUSPENSIONS, 60 PERCENT OF PLACEMENTS IN DISCIPLINARY ALTERNATIVE EDUCATION PROGRAMS, AND 67 PERCENT OF OUT-OF-SCHOOL SUSPENSIONS.
TO MAKE MATTERS WORSE, THESE DISPARITIES IN SCHOOL DISCIPLINE PRACTICES ARE NOT EXCLUSIVE TO FORT BEND; THEY ARE THE REALITY ALL ACROSS OUR STATE. DATA FROM THE TEXAS EDUCATION AGENCY SHOW THAT, IN 2013-14, AFRICAN-AMERICAN CHILDREN CONSTITUTED APPROXIMATELY 12 PERCENT OF THE STUDENTS IN TEXAS, YET THEY MADE UP 35 PERCENT OF OUT-OF-SCHOOL SUSPENSIONS, 25 PERCENT OF THE STUDENTS PLACED IN DISCIPLINARY ALTERNATIVE EDUCATION PROGRAMS, AND 26 PERCENT OF IN-SCHOOL SUSPENSIONS. THESE NUMBERS LARGELY REFLECT DISCIPLINE OPTIONS THAT ARE MADE AT THE DISCRETION OF LOCAL SCHOOL ADMINISTRATORS.
YET, AFRICAN-AMERICAN STUDENTS ARE NO MORE LIKELY TO MISBEHAVE THAN THEIR WHITE OR LATINO PEERS. ACCORDING TO A 2011 REPORT PRODUCED BY THE COUNCIL OF STATE GOVERNMENTS (CSG), THE RACE-BASED GAPS IN SUSPENSION OF EXPULSION RATES DISAPPEAR WHEN SCHOOL RULES MAKE THOSE PUNISHMENTS MANDATORY FOR CERTAIN CONDUCT. MEANING IT IS ONLY WHEN SCHOOLS HAVE THE CHOICE TO PUNISH THAT WE SEE AFRICAN-AMERICAN STUDENTS DISCIPLINED AT DISPROPORTIONATELY HIGH RATES. THESE FINDINGS REVEAL DISCIPLINE PRACTICES THAT ARE FUNDAMENTALLY UNFAIR AND MOTIVATED BY BIAS.
DISCIPLINE THAT REMOVES STUDENTS FROM THE CLASSROOM IS PARTICULARLY TROUBLING BECAUSE IT MEANS STUDENTS ARE LOSING CLASSROOM LEARNING TIME. IT IS NO SURPRISE, THEN, THAT THE RESEARCH ESTABLISHES A CLEAR LINK BETWEEN THESE DISCIPLINE PRACTICES AND BAD OUTCOMES FOR STUDENTS. THE 2011 CSG REPORT FURTHER FOUND THAT, AMONG TEXAS STUDENTS WHO HAD AT LEAST ONE SUSPENSION OR EXPULSION, 10 PERCENT DROPPED OUT OF HIGH SCHOOL AND 23 HAD FUTURE JUVENILE JUSTICE SYSTEM CONTACT. STUDENTS WHO RECEIVED NO DISCIPLINARY ACTION HAD ONLY A 2 PERCENT DROPOUT RATE AND 2 PERCENT JUVENILE JUSTICE CONTACT RATE. SO NOT ONLY DOES DISPROPORTIONATE SCHOOL DISCIPLINE UNFAIRLY KEEP AFRICAN-AMERICAN YOUTH OUT OF THE CLASSROOM, IT ALSO LEADS DIRECTLY TO BEHAVIORS THAT SEVERELY REDUCE THEIR PROSPECTS OF GRADUATING AND SUCCEEDING BEYOND SCHOOL.
YOUTH INVOLVED WITH THE JUVENILE JUSTICE SYSTEM HAVE DIFFICULTY CONCEPTUALIZING SUCCESS. DREAMS OF A COLLEGE EDUCATION AND A MEANINGFUL CAREER FADE AWAY WITHIN THE CONFINES OF A CELL. IN JUVENILE FACILITIES, YOUTH LEARN CRIMINAL BEHAVIOR AND LOSE THE FEELINGS OF SAFETY AND SECURITY THAT DEFINE CHILDHOOD. EVEN WORSE, A SELF-FULFILLING PROPHECY SETS IN—YOUTH TRAPPED WITHIN THE SYSTEM ARE LABELED "CRIMINALS," AND SO THEY BEGIN TO IDENTIFY THAT WAY.