Floyd Mayweather & Manny Pacquiao Will Fight in May
Willie Grace | 2/23/2015, 11:39 a.m. | Updated on 2/23/2015, 11:39 a.m.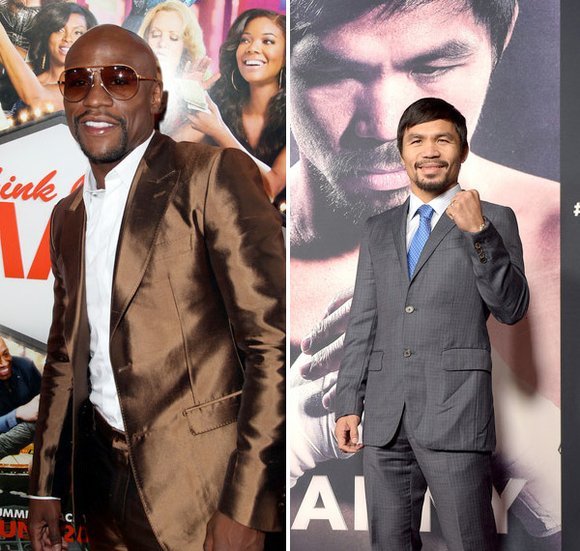 Box fans, you can get excited now. Floyd Mayweather and Manny Paciquao have finally agreed to go head-to-head in the ring May 2nd. If you're a boxing fan, you've been waiting for this fight for about five years now. And now, it's finally about to go down. They have signed all of the paperwork and it's official. Undefeated boxing champ Floyd Mayweather and Manny Paciquao will hit the ring on May 2nd at the MGM Grand in Las Vegas for a huge mega-fight that will likely go down as the richest boxing match in history. Following the two boxers meeting for the first time last month, Floyd made the official announcement on social media platform Shots (in which he is an investor), showing off the official signed agreement to finally square off in the ring against Manny.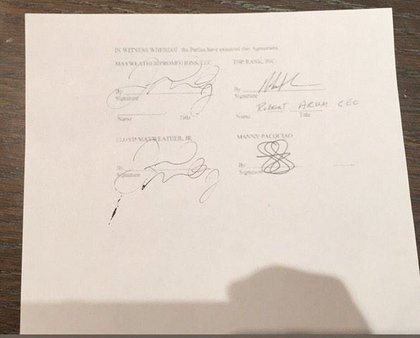 Floyd said...
"I am glad my decision to meet with Manny and discuss making this fight happen helped get the deal done. Giving the fans what they want to see is always my main focus. This will be the biggest event in the history of the sport."
It's expected the fight will gross around $400 million where Floyd will earn a 60-40 money split of the generated funds. Manny seems happy to go head-to-head against the undefeated champ. He said...
"I am very happy that Floyd Mayweather and I can give the fans the fight they have wanted for so many years," Pacquiao said. "They have waited long enough and they deserve it. It is an honor to be part of this historic event. I dedicate this fight to all the fans who willed this fight to happen and, as always, to bring glory to the Philippines and my fellow Filipinos around the world."
Well there you have it. May 2nd. MGM Grand. It's on and poppin'!
For more information go to https://www.facebook.com/yourgossipfix