Tuskegee University Director Named White House "Champion of Change"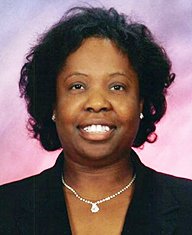 TUSKEGEE, Ala. (February 23, 2014) – Dr. Deloris Alexander, the director of the Integrative Biosciences Ph.D. Program (IBS), has been selected to be honored by the White House for promoting college education and completion. Alexander is among 11 faculty and staff honorees from the nation's Historically Black Colleges and Universities (HBCUs) who have been named a "Champion of Change." She will be recognized Tuesday at the White House event that will include a panel discussion moderated by actor and E! News co-Host, Terrence Jenkins; remarks from Senior Advisor to the President Valerie Jarrett and U.S. Secretary of Transportation Anthony Foxx.
According to a White House release, "The Champions of Change program was created as an opportunity for the White House to feature individuals doing extraordinary things to empower and inspire members of their communities."
Alexander, a native of the City of Tuskegee, holds degrees in biology, environmental sciences and biomedical sciences from Alabama State University, Tuskegee University, and Meharry Medical College, respectively. She also completed post-doctoral research in cancer genetics at the Lineberger Cancer Center/University of North Carolina at Chapel Hill. Alexander has been the director of the IBS program since 2011. This program facilitates the progression of talented, motivated students from the collegiate through doctorate level to careers in the professorate and other areas.
"This is an amazing opportunity for Tuskegee University and other HBCUs to be recognized for their roles in increasing the number of students who complete academic degree programs and for their roles in increasing the nation's STEM diversity and competitiveness," Alexander said.
She is a second-generation college graduate and the second person in her family to receive a Ph.D degree. Alexander is also a collaborator on several federally funded projects involving graduate and undergraduate education, especially initiatives meant to increase access to education for socioeconomically-deprived students. She also leads programs designed to increase both diversity and America's competitiveness in science, technology, engineering, and mathematics (STEM) fields.
"I represent a host of faculty, staff, administrators, and others affiliated with Tuskegee University, who have dedicated themselves to teaching and mentoring our students in the hope that these future leaders will achieve great things," Alexander said.
The event will be streamed online at 9 a.m. CST. To watch live, go to: www.whitehouse.gov/live
To learn more about the White House Champions of Change program, visit www.whitehouse.gov/champions. To follow the conversation via social media, use #HBCUchamps.
About Tuskegee University
Founded in 1881 by Booker T. Washington, Tuskegee University is home to approximately 3,000 students from the U.S. and 30 foreign countries. The academic programs are organized into seven colleges and schools: 1.) Andrew F. Brimmer College of Business and Information Science, 2.) College of Agriculture, Environment and Nutrition Sciences, 3.) College of Arts and Sciences, 4.) College of Engineering, 5.) College of Veterinary Medicine, Nursing and Allied Health, 6.) Robert R. Taylor School of Architecture and Construction Science, and 7.) School of Education.
Tuskegee University is accredited with the Southern Association of Colleges and Schools Commission on Colleges to award baccalaureate, master's, doctorate, and professional degrees. The following programs are accredited by national agencies: architecture, business, education, engineering, clinical laboratory sciences, nursing, occupational therapy, social work, and veterinary medicine.
To learn more about Tuskegee University, go to: www.tuskegee.edu. To follow us on Facebook, go to: https://www.facebook.com/TUSKEGEEUNIVERSITY?ref=hl; Twitter at: https://twitter.com/TuskegeeUniv; and LinkedIn at: http://www.linkedin.com/company/24601?trk=prof-exp-company-name