2016 Volvo XC90 T6 first drive
Willie Grace | 2/24/2015, 1:45 p.m. | Updated on 2/24/2015, 1:45 p.m.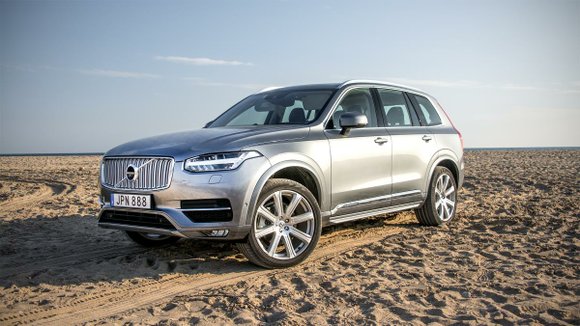 ON SALE: May 2015
BASE PRICE: $49,895
AS TESTED PRICE: $55,000 (est)
DRIVETRAIN: 2.0-liter supercharged/turbocharged four-cylinder; AWD, eight-speed automatic
OUTPUT: 316 hp @6,000 rpm, 295 lb-ft of torque @5,400 rpm
CURB WEIGHT: 4,627 lb
0-60 MPH: 6.1 sec
FUEL ECONOMY: TBA
(EPA City/Hwy/Combined)
OBSERVED FUEL ECONOMY: N/A
VOLVO'S FLAGSHIP SUV REDESIGNED WITH THE AMERICAN MARKET IN MIND
What is it?
Easily Volvo's most anticipated premiere of the last few years, the full-size XC90 SUV is headed to dealerships this May sporting an all-new platform, a new design language, a new powertrain that will also be offered in hybrid form and basically new everything else. The seven-seater SUV is the first Volvo vehicle developed independently of the engineering inherited from Volvo's past corporate parent, Ford, and it replaces a model that has been on sale since 2002.
The 2016 Volvo XC90 is first and foremost a reflection of a new design direction for Volvo, underpinned by the company's Scalable Product Architecture (SPA) platform, which will be used on a number of new vehicles. The new SUV is wider, taller and longer than the model it replaces, though it also manages to be lighter. A longer wheelbase than the old model's ensures a better ride, while the interior is more spacious and luxurious, focusing on comfort and premium materials.
At launch, the U.S. XC90 T6 will get a turbocharged and supercharged direct-injected 2.0-liter four-cylinder engine making 316 hp and 295 lb-ft of torque. That Drive-E engine is coupled to an eight-speed automatic transmission driving all four wheels. A more powerful T8 plug-in hybrid model will arrive this fall using the same engine as its gasoline powerplant. But even the T6 model, which we'll see first, will be powerful enough to get the SUV from 0-60 mph in 6.1 seconds. The later T8 plug-in hybrid will produce around 400 hp and will be the cleanest and most powerful premium SUV on the market when it goes on sale, according to Volvo.
The XC90 will be offered only in AWD form in the U.S., with the chassis featuring a new double-wishbone suspension up front with an integral link rear axle. The rear axle will have a transverse leaf spring made of a lightweight material in place of coil springs, and a new electric rack-and-pinion steering system replaces the traditional hydraulic unit. An electronically adjustable air suspension will allow drivers to select from a range of settings, including comfort, eco, dynamic, off-road and individual, controlled by a cylinder-shaped wheel located just behind the console-mounted gear selector. The air suspension will automatically lower the ride height by 10mm at speeds above 62 mph and drop the SUV by 40mm for easier ingress and egress.
As this is still a Volvo, it means that an everything-and-the-kitchen-sink approach has been adopted when it comes to safety: The XC90 gets a vast lineup of safety systems incorporating elements that foreshadow autonomous vehicles. They include automatic braking at intersections, which will apply the brakes when making a left turn at an intersection when the vehicle detects an oncoming car, a new adaptive cruise control system with automatic steering and braking inputs, road edge detection, day-and-night pedestrian and cyclist detection and avoidance, lane-departure warning system, whiplash-protection system and run-off road protection. The latter system is aimed at keeping the XC90 from rolling over when leaving the road and heading into the ditch, using the ABS system to keep the vehicle upright. All these systems are part of Volvo's Vision 2020, an initiative to ensure that no one will be seriously injured or killed in a Volvo by the year 2020.